When Easter comes around, sure, we all look forward to ripping into a load of chocolate, but it's also a great excuse to add some fun and folly to our homes with unique DIY decor. 
Easter trees have been around for a long time, and they are becoming even more popular year on year. We're all looking for new and fresh Easter decorating ideas for our homes – and since the start of March 2022, searches for Easter trees on Pinterest have increased by around 82 percent, meaning that it's a trend we need to tap into. 
Easter tree ideas 2022
Whether you're living with friends in a rental or living in your first home, DIY Easter decor ideas are a great way to spend quality time with your friends and family to bring everyone together. Easter trees vary in size and style, so whether you want to spend an afternoon crafting or want a quick and instant bargain buy, an Easter tree is a must this year. 
'To spruce up your house, Easter trees are a big trend and have been growing in popularity over the last few years. They are a perfect addition to honor the change in seasons and to give your home an Easter charm that'll put you in the mood to celebrate,' says Jess Martin, decoration expert at Ginger Ray (opens in new tab).
1. Save money and forage for free twigs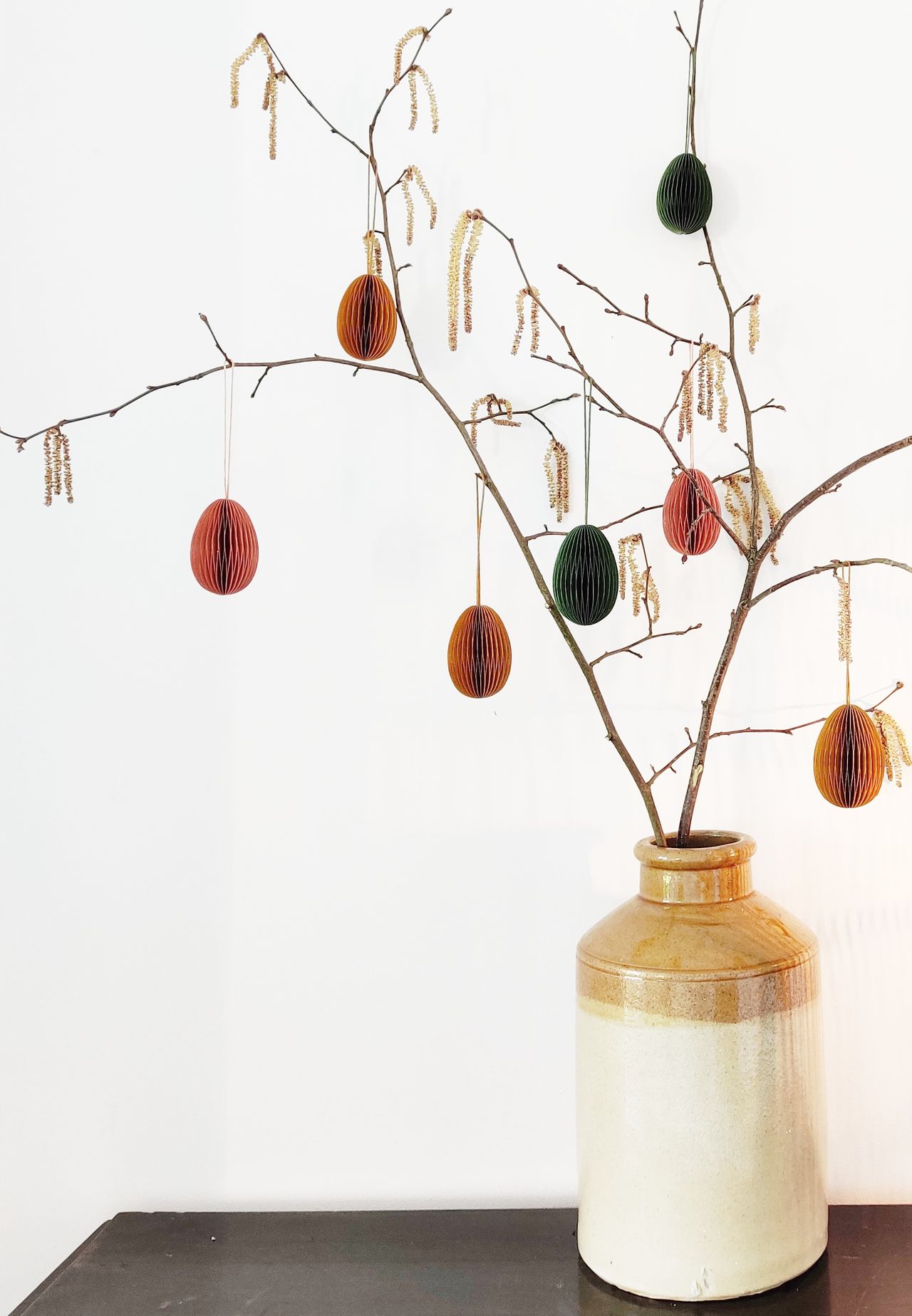 We'd all rather save money, so take a walk around your yard and pick out the perfect twigs for your jar, for free! This beautiful Easter tree by @house_at_54 (opens in new tab) uses sustainable paper decs that are elegant and simple.
We spoke with Sandra Varley, an expert from Flying Flowers (opens in new tab) also to share the best way to prepare your Easter tree this year:
What you'll need
Tree branches
Vase
Decorations like ribbons and eggs
Flowers (optional)
What to do
1. Collect a couple of tree branches and cut them to the right height for your jug or vase.
2. Half fill your vase with water, this will encourage the branches to unfurl any new buds, leaves and blossom, it also helps with stability. The ideal branches are those that have several smaller branch twigs, giving you lots of options to hang any decorations. 
3. Decorate, you don't need to spend lots, and you don't need lots of decorations either. The simpler the better. I love to use narrow ribbon (opens in new tab) tied in bows and pastel-colored egg decorations (opens in new tab) which I reuse every year.
4. If decorating with flowers, carnations are a great choice as they are very resilient and each carnation can be easily wired to decorate a tree like this. For something a little more subtle try hanging test tubes filled with delicate spring stems such as tulips and narcissi.
5. To make sure your Easter Tree lasts as long as possible, put your tree in a cool room and spritz the flowers with a little water every other day.
2. Match your Easter tree decor to your color scheme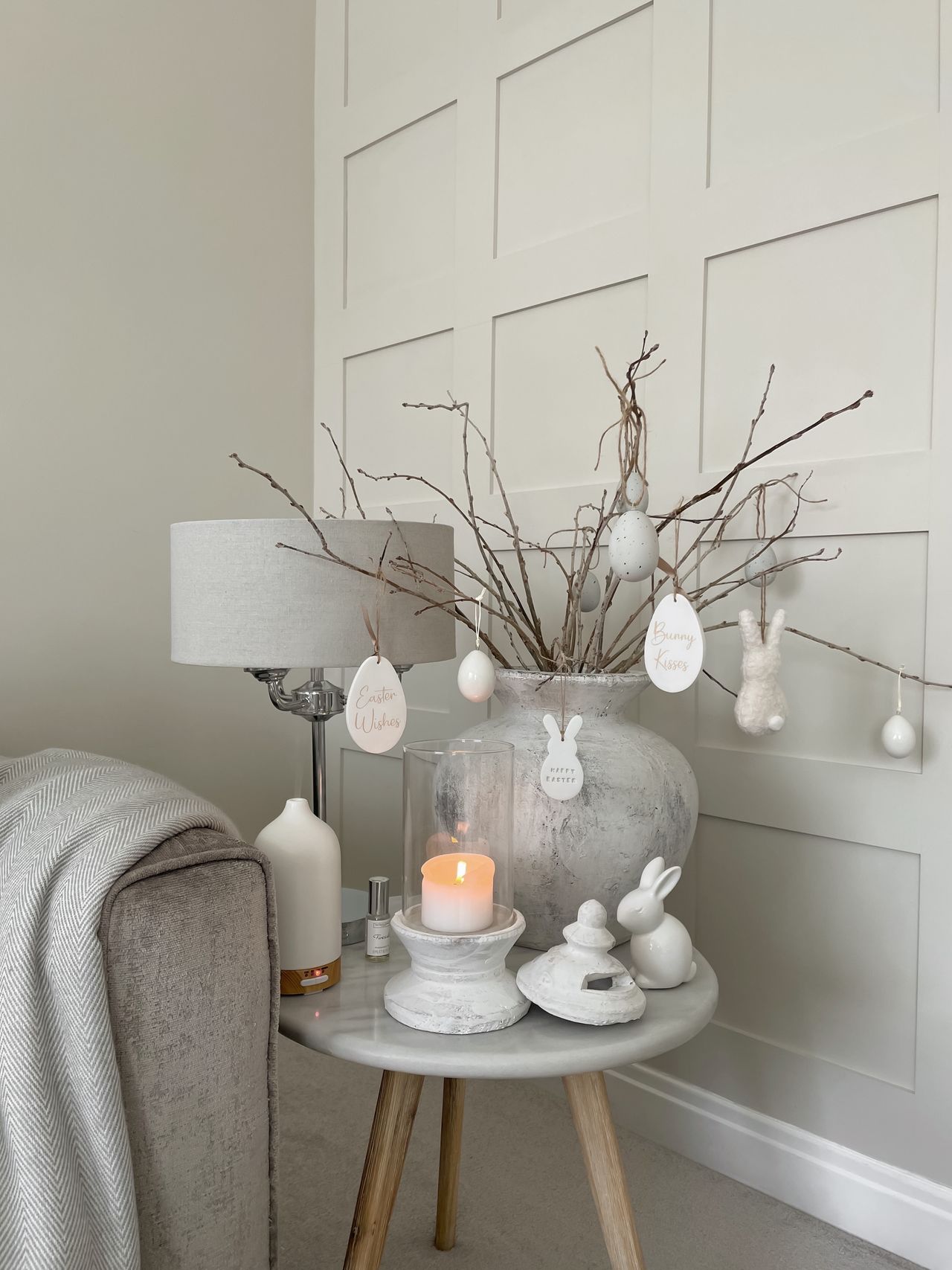 For an Easter tree that says chic and stylish rather than child-like and playful, choose a specific color scheme and stick with it. We love how this Easter tree by @_homebyhayley (opens in new tab) uses decorations that are the exact same shades as her scheme, creating a muted, grown-up take on Easter decor. If you're not one for going out foraging for twigs in the wilderness, simply order these birch twigs from Amazon (opens in new tab) and let the branches come to you. 
3. Maximize prettiness with sustainable beaded Easter egg ornaments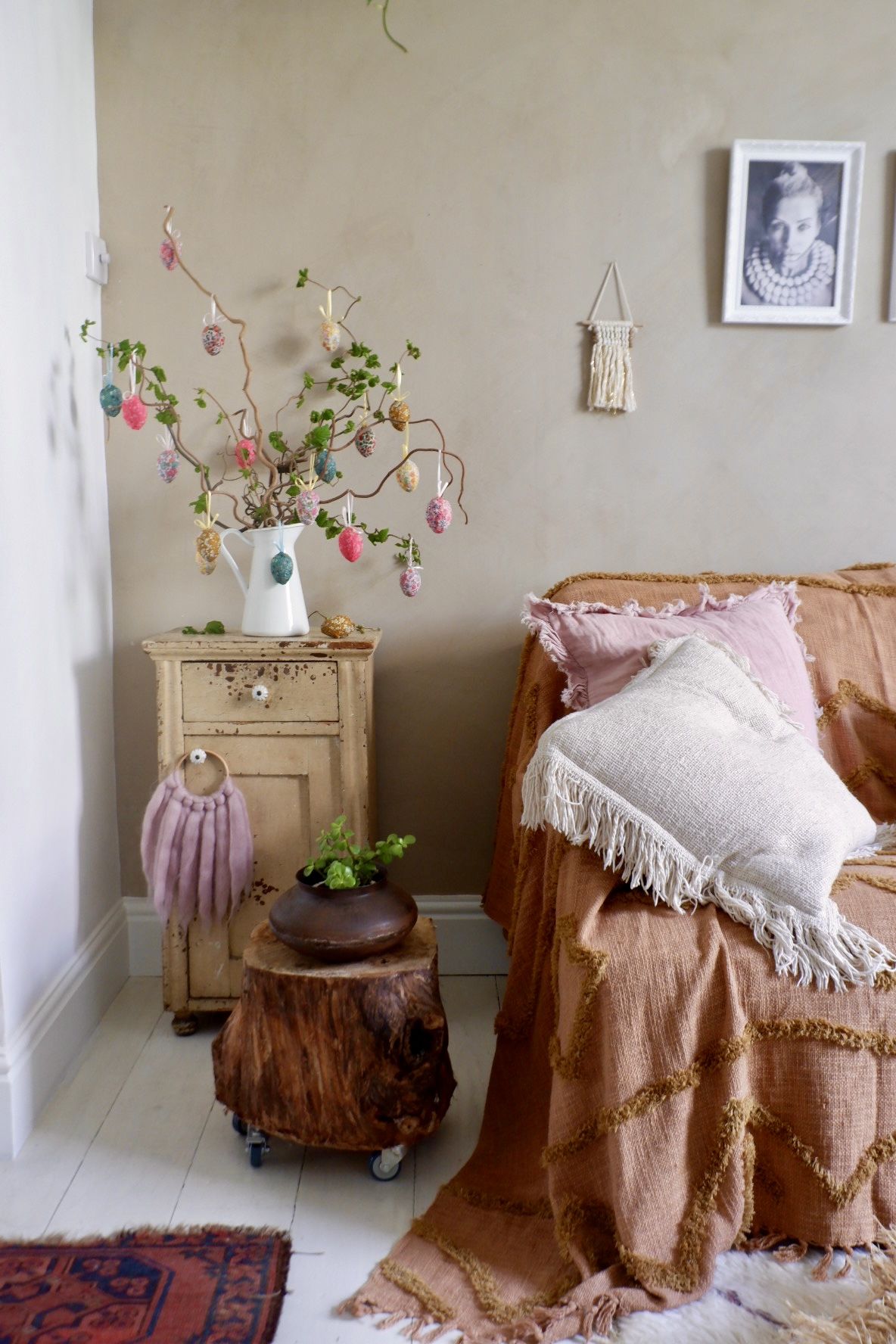 If you want to go playful with mismatched colors, create unity with texture. These beaded egg decorations on this wild and whimsical Easter tree by @kylamagrathinteriors (opens in new tab) bring all the fun and whimsy, while the beaded finish gives a coherent and stylized finish. Beads are a much more eco-friendly alternative to sequins, making this a positive and easy swap for your home. These beaded Easter eggs from Amazon (opens in new tab) are on our lust list this year.
4. Give a mini Christmas tree an Easter twist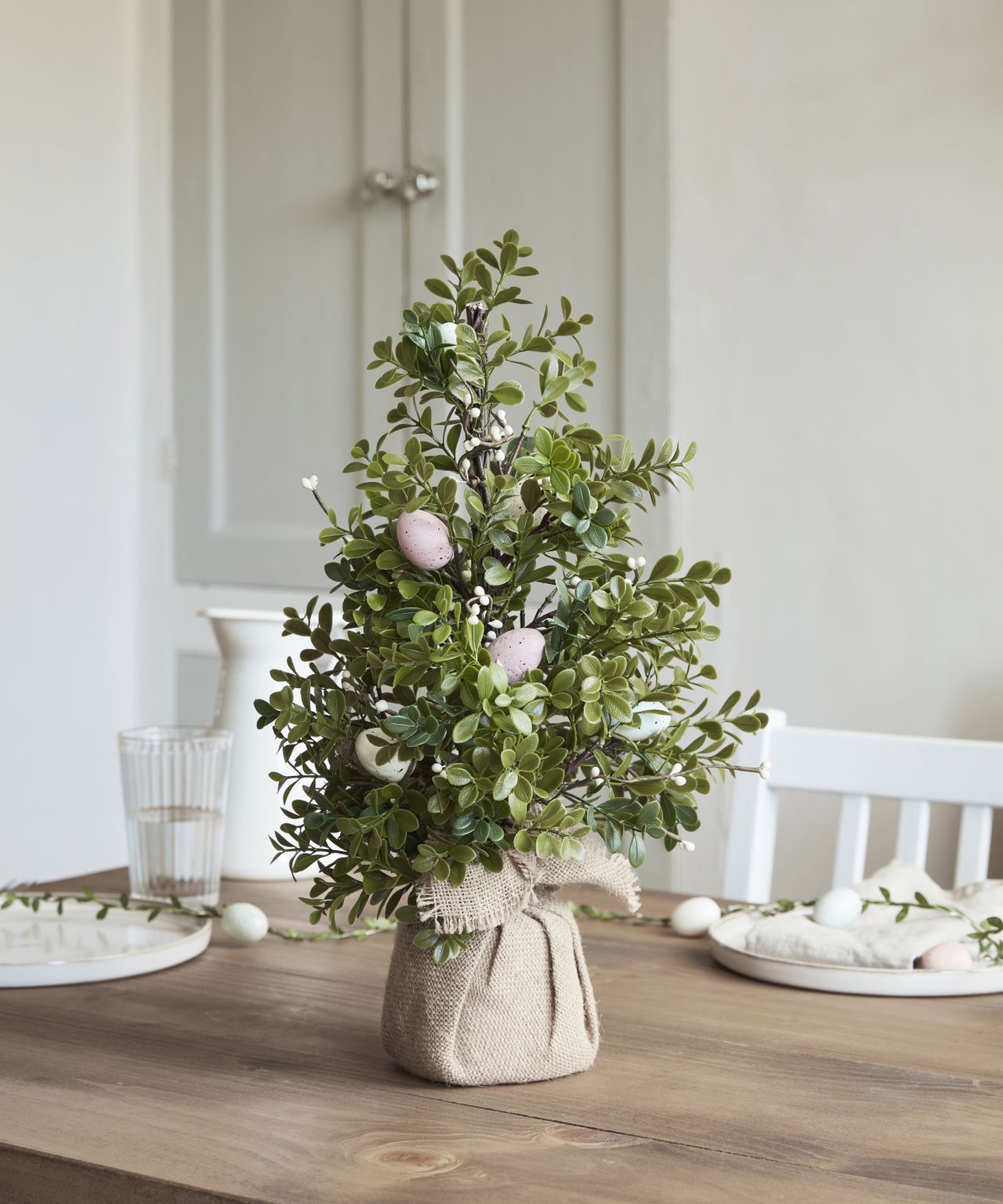 If you've got anything left over from a DIY Christmas tree, use it to your advantage by giving it a spring-time facelift. As long as there's no faux snow or holly in sight, swap your red and green baubles for your pastel-colored Easter eggs and use them on the center of your dining table for an inexpensive centerpiece that looks cute and fun. 
5. Choose pretty yellow blossom as your base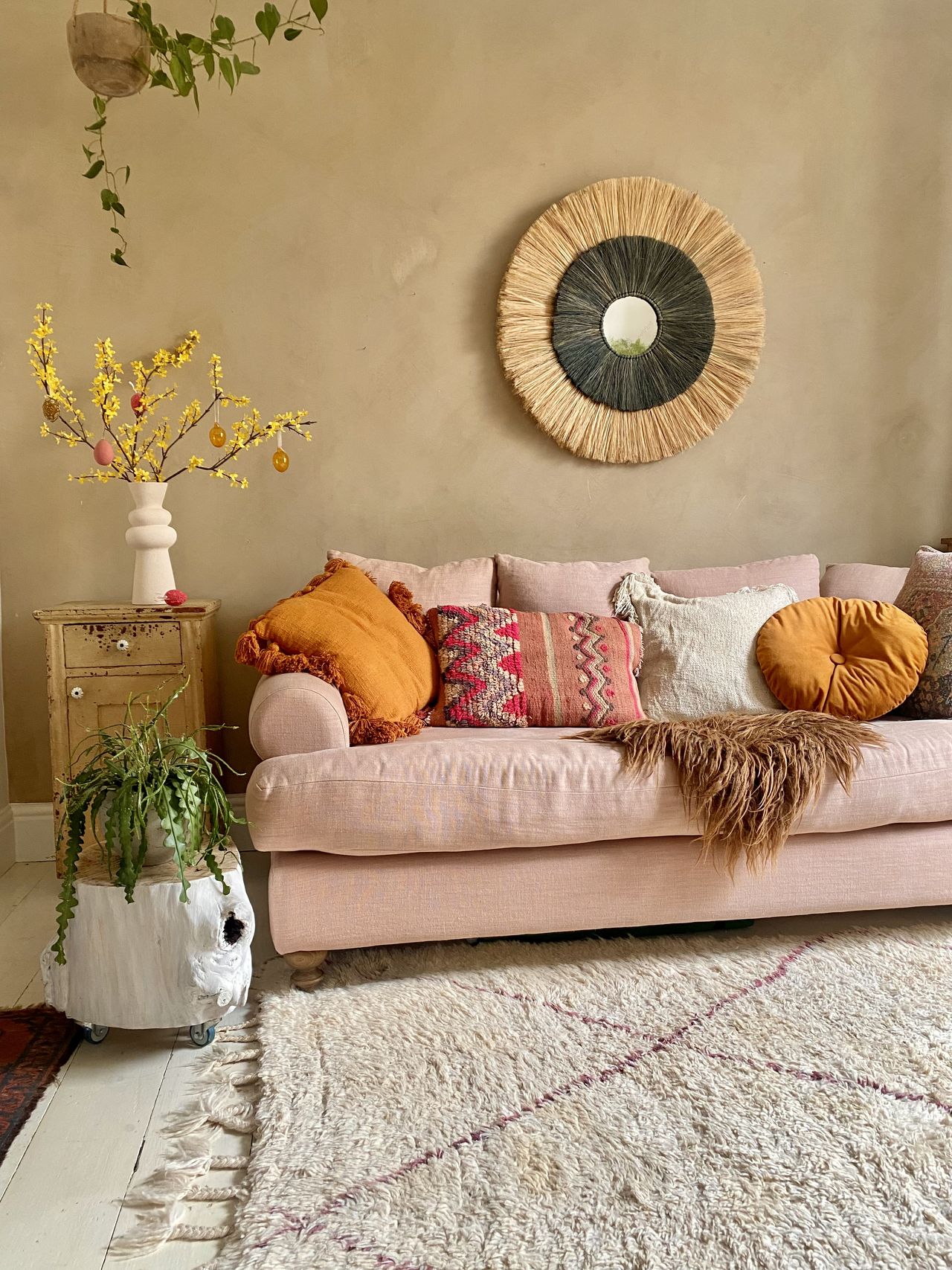 Your twigs don't need to be bare – when doing your spring gardening keep an eye out for any pretty blossom branches that you could bring inside. Give the look a modern and on-trend twist by using a large, stand-out, shapely vase, as shown here in @kylamagrathinteriors (opens in new tab) lovely living room.
Simply hang a few Easter egg decorations at various heights on your branches for instant Easter vibes. And the best bit is that even once Easter has passed, you can simply remove the eggs and keep your blossom on display to watch the buds open up.
6. Paint real eggs for a personalised touch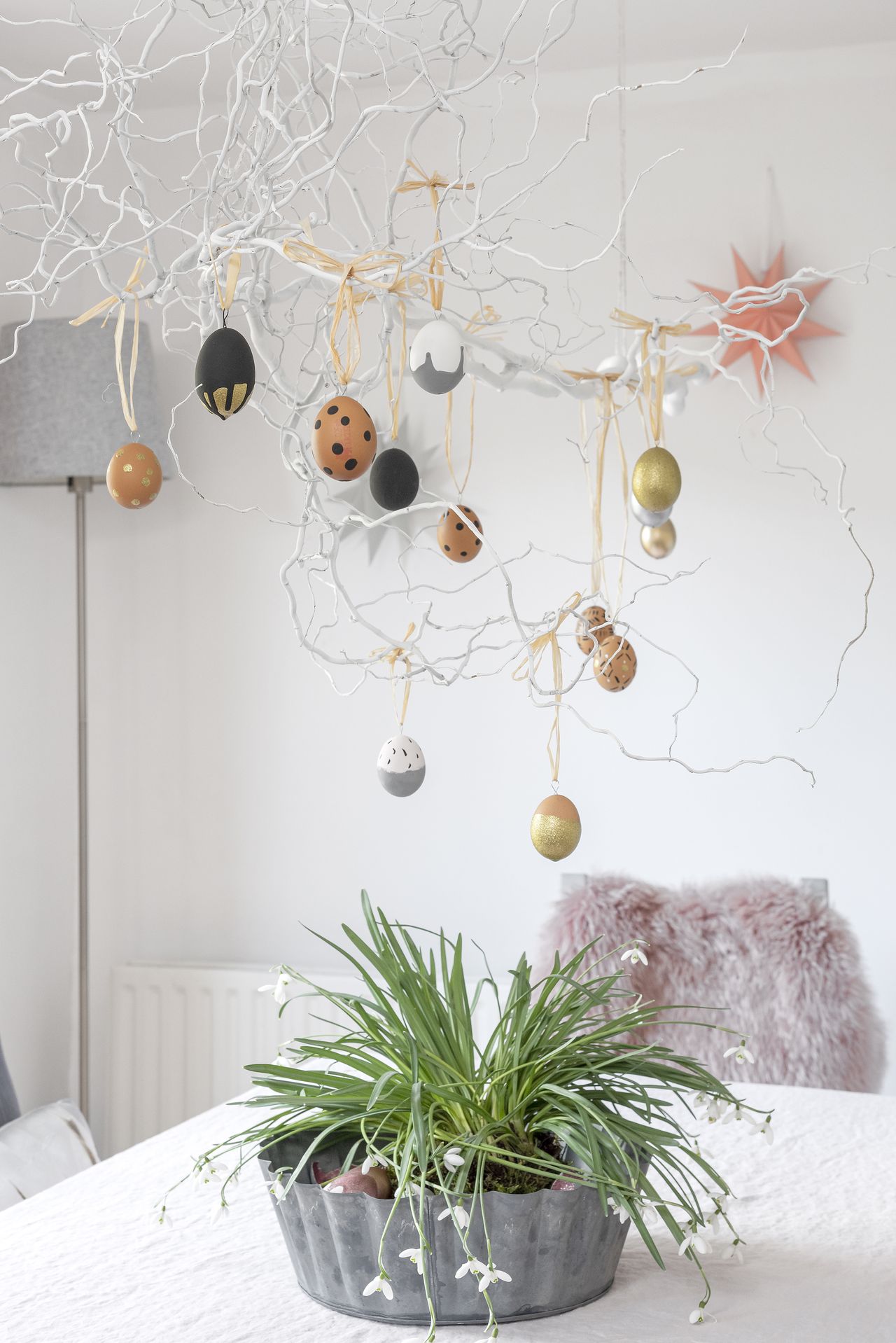 When it comes to Easter Sunday dinner, you really do need to know how to dress a spring table. Creating an overhead tree with handmade decorations like this is a great way to win instant style points, and it's also a great use of space if your dining table is on the small side. We've chatted to the experts at Rust-Oleum (opens in new tab) to share how you can create these decorations yourself at home.
What you need
How to paint an egg for Easter
1. Holding the egg above a bowl, carefully tap and push a hole in the top center of the egg with a nail. Push the nail in as far as it will go and remove it. Hold the egg over a bowl and flush out the contents of the egg by blowing through the hole. Take your cocktail stick and insert it into the hole; stir it around to help break up the yolk. Flip the egg over and repeat the whole process on the opposite side.
2. Once all contents of the egg have been emptied, clean the eggshell with water. Wipe carefully with a cloth and leave to dry.
3. To make decorating easier, place your clean eggshell on a wooden skewer. Then get creative with your designs! Paint on polka dots, stripes, or whatever takes your fancy.
4. Once dry, glue the ribbon onto the eggs and hang them on your tree.
7. Create multiple layers with different sized jugs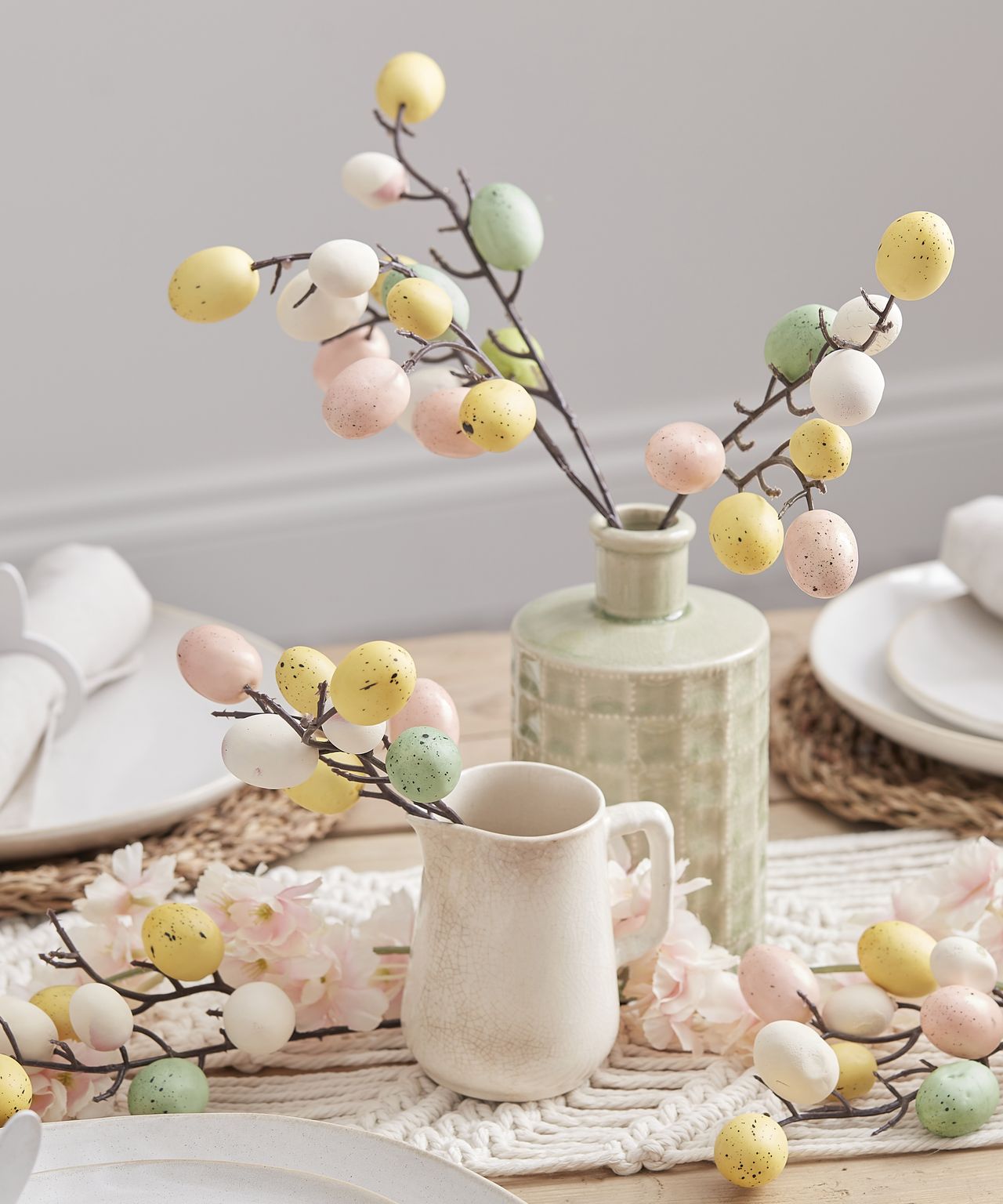 If you think your tiny rented flat doesn't have room for an Easter tree, think again! You can create an array of mini trees by simply putting smaller twigs in varying-sized vases and jugs. These artificial Easter tree branches from Amazon (opens in new tab) are just as easy to position in your vases as a bunch of flowers, and bring that Easter cheer with minimal fuss!
8. Add some twinkle with a pre-lit freestanding tree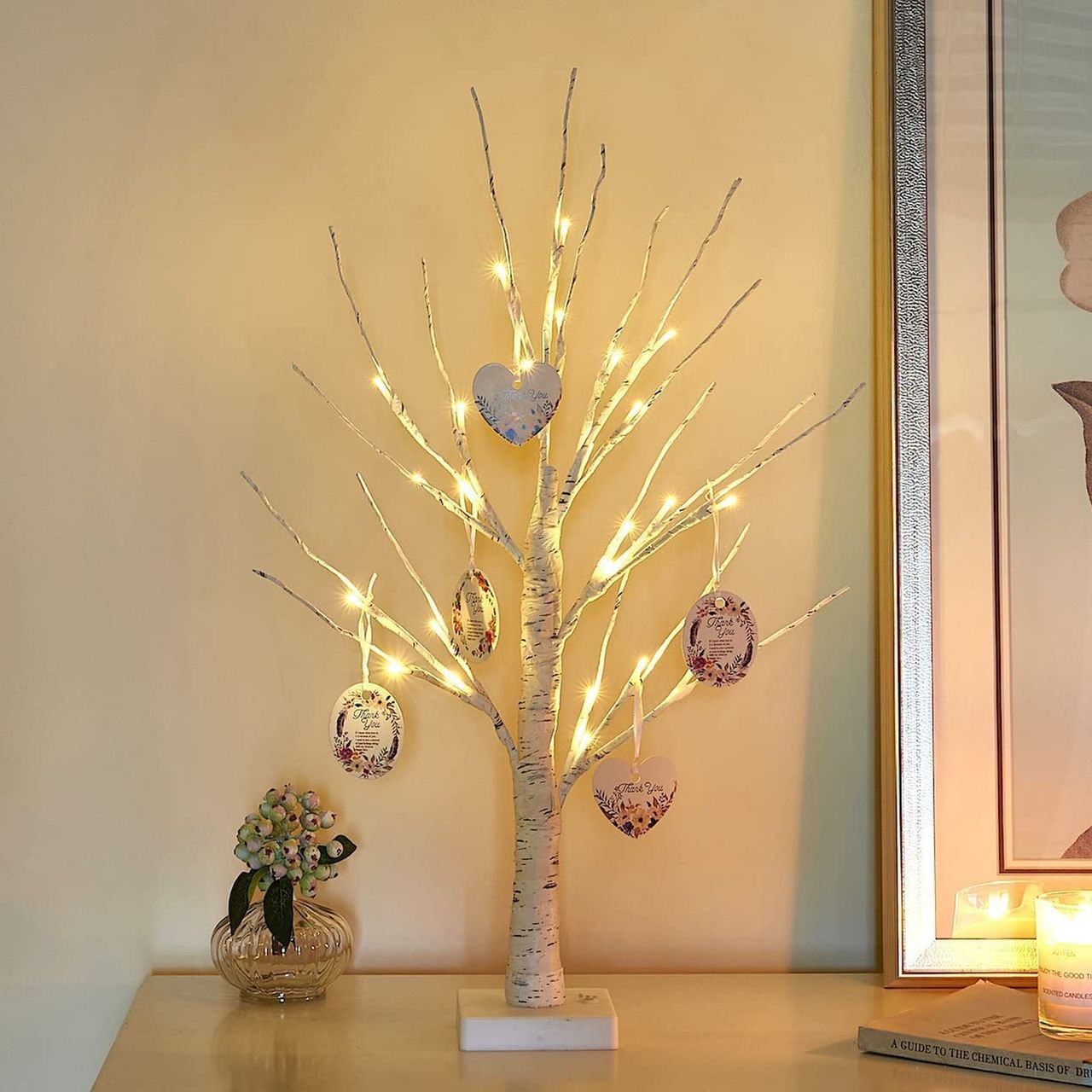 Bring the cozy factor to your Easter evenings with a (cheat) light-up Easter tree. This Eambrite mini white Easter tree from Amazon (opens in new tab) is a simple way to create an instant feature in your space. The battery-powered design means you can place the tree anywhere without worrying about wires or plugs. We think this is perfect for a hallway, as a lovely way to create a warm welcome when you walk through the door. 
9. Use a tall glass vase to display decorative branches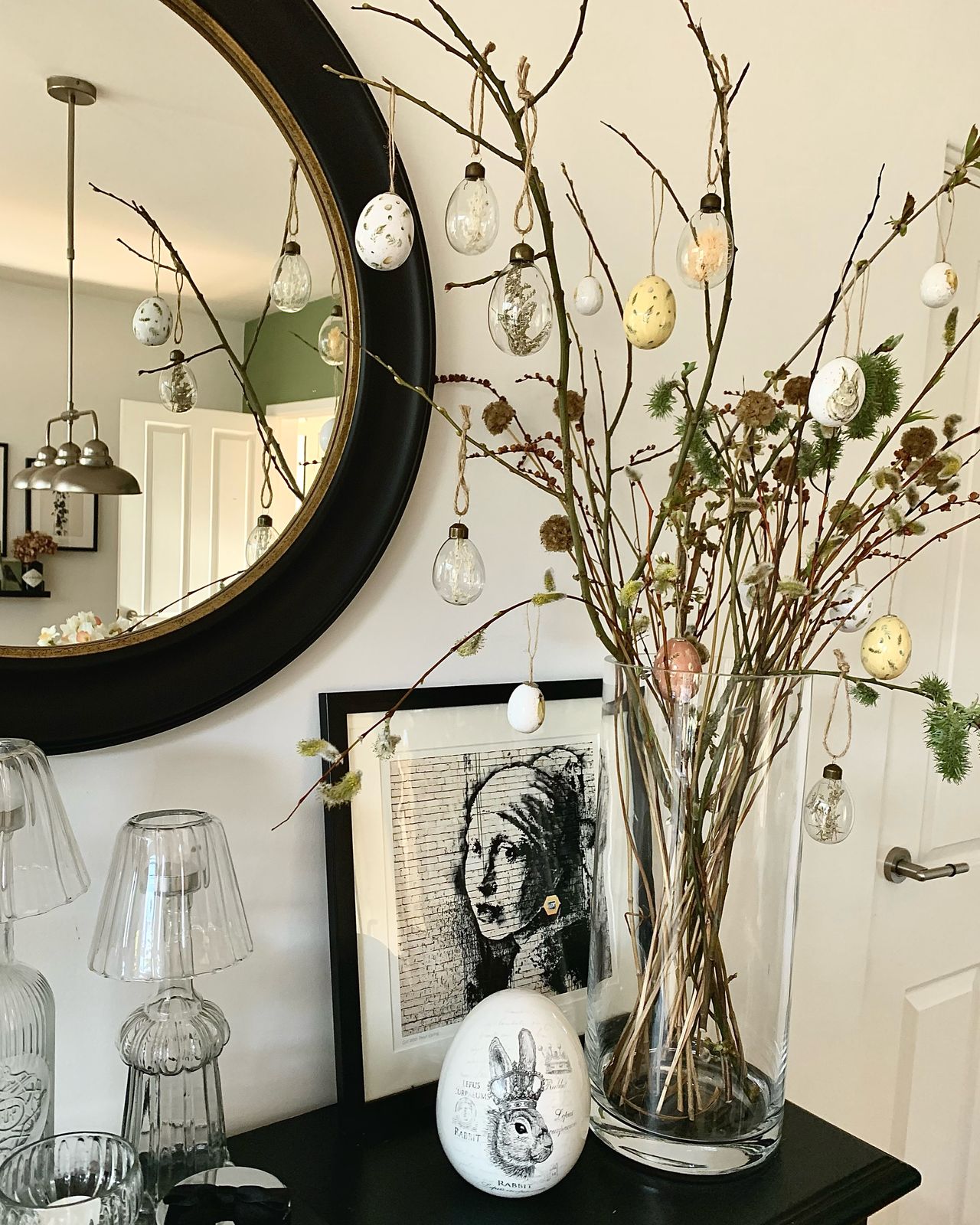 Sometimes the simplest ideas are the best ones. Position your twigs in a tall glass vase such as this Broadablin glass vase from Wayfair (opens in new tab) and let your colorful decorations do all the talking. The above Easter tree by @lesley_b57 (opens in new tab) looks great on this sideboard, but you could also position a larger glass vase on the floor for a larger and more impactful look.
10. Go for a Scandi wooden Easter tree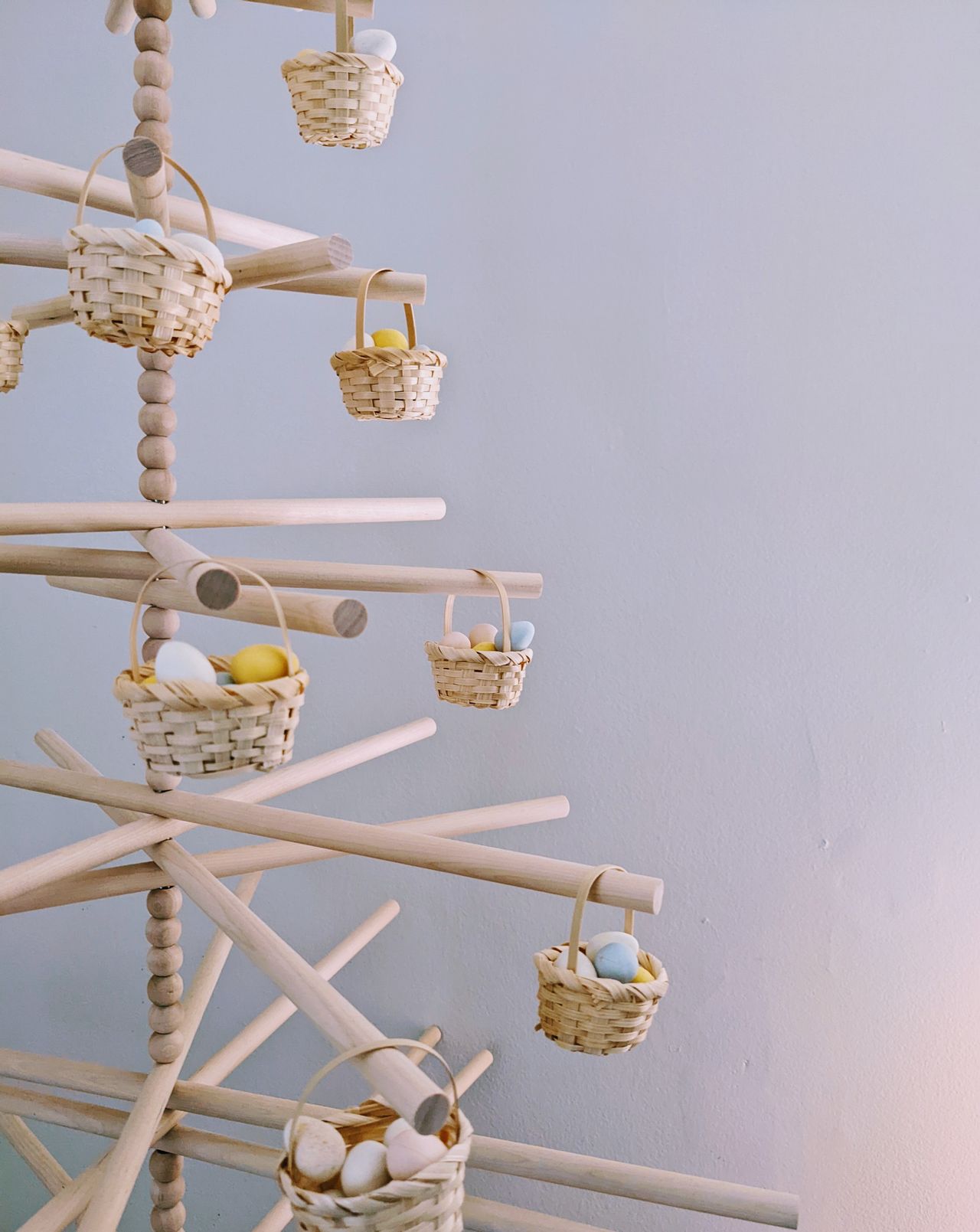 If you're looking to really make an impact in your space, this wooden beaded Easter tree from Etsy (opens in new tab) is an investment buy that you're sure to get out year after year, and even use at Christmas too. The simple Scandi-style design will sit back perfectly in any style of space and would make a great addition to a dining room or hallway. We love these sweet little baskets filled with mini eggs, but if you've gathered boxes full of Easter decorations over the years, this is a brilliant way to put them on show.