When it comes to paint colors for the exterior of a house, there is a plethora of options to choose from. Ranging from classic whites through to more vibrant tones, there is a color for every home and every home owner.
Choosing paint ideas for your home's exterior is a big task. It will define your home's character and create an instant impression. Painting your home is a fairly complex task and not one you'll want to repeat on a regular basis – therefore choosing the right house paint colors first time around is vital.
'A great tip for choosing a house paint color is to make sure you view some realistic samples first. I always advise clients to paint the samples on posterboard in order to have large visuals of the color that can be seen in many different lighting positions. It is all too common to see sellers paint an entire house based off of a small sample, and then regret the color they chose,' advises Donald Olhausen Jr, real estate agent, house flipper and owner of We Buy Houses in San Diego.
Below, we showcase the best paint colors for the exterior of a house.
Paint colors for the exterior of a house
As well as considering paint colors for the exterior of a house, it is also important to think about how to paint a house exterior.
'Painting an exterior is not just about choosing the right colors, it's also about choosing the right paint finishes, after all, this finish needs to protect the building as well as decorate it!' says Ruth Mottershead, creative director at Little Greene. 
'Exterior paint is essentially your home's protection from the elements, so it's vital to select paints that not only look fantastic and have a superb finish, but that are also durable, practical and formulated to withstand the test of time, harsh weather conditions in winter and the baking UV light of mid-summer.'
'For brick, stone or rendered walls, a masonry paint is required, extremely durable and water-resistant, it offers effective protection from the elements, and benefits from being highly dirt-resistant, with its anti-fungal and anti-ageing properties ensuring it looks good for longer,' continues Ruth. 'If you're unsure about choosing the right paint finishes for your home, consider an all surface primer.'
1. Opt for white on colonial style homes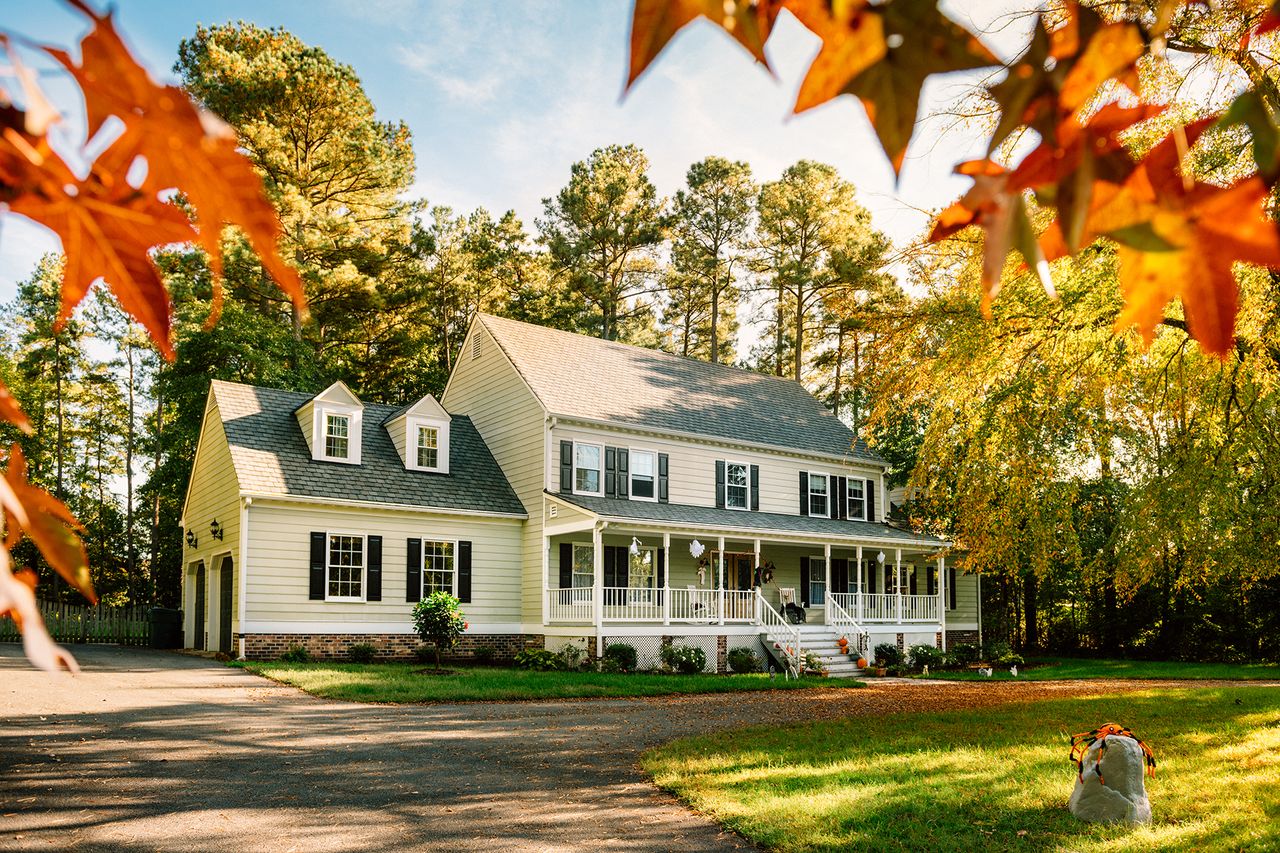 Classic and timeless, you can't go wrong with white for colonial style houses. One of the most popular paint colors for the exterior of a house, it suits almost all house styles from colonial homes through to new builds.
'Refreshing the exterior of the house can instantly transform your property and add value to it. External features such as window ledges, door surrounds and gate posts can all be painted with the same formulation and color to create a uniform look,' says Matthew Brown, technical consultant at Sadolin & Sandtex. 
2. Select red for farmhouse vibes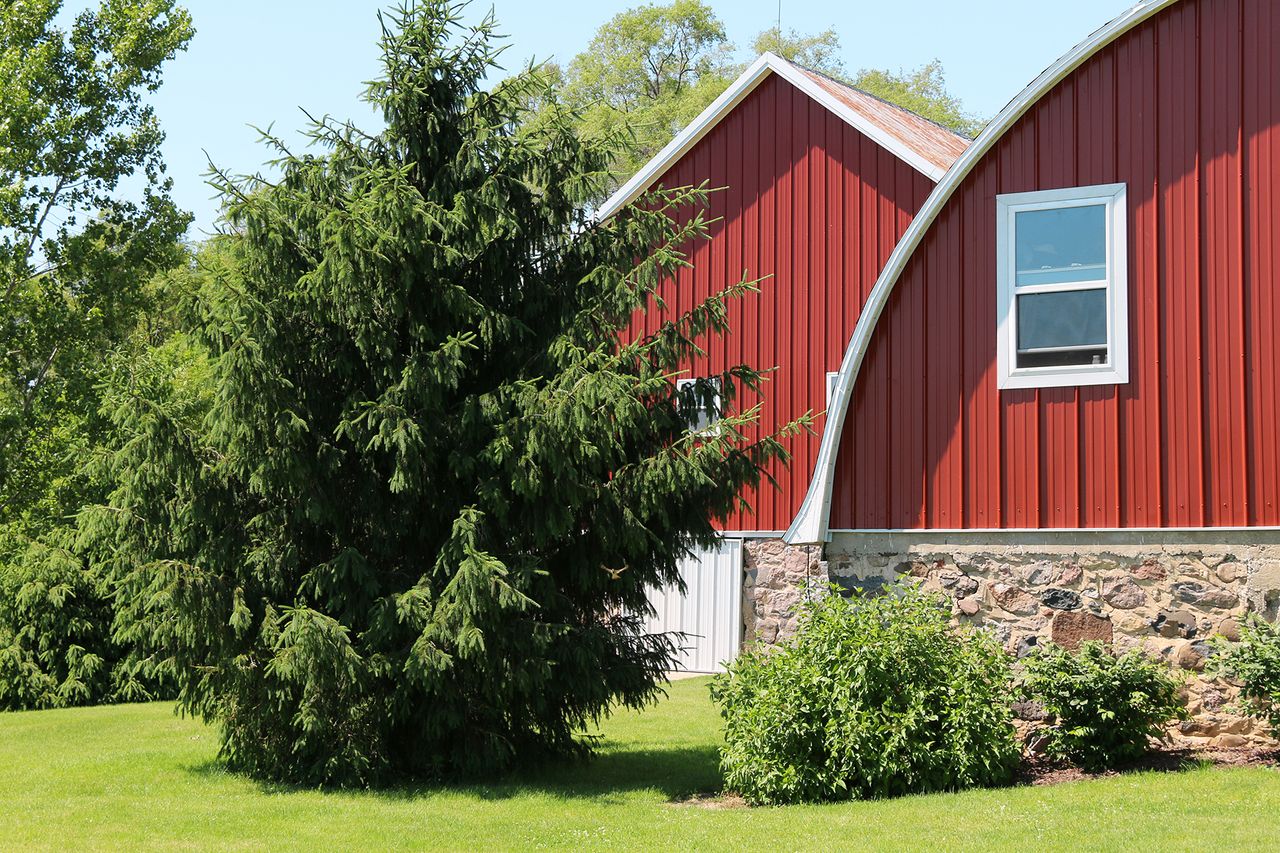 If you have a farmhouse or even farm-style barns on your property, then red is a classic house paint color. While it would make a bold statement in the city, in the countryside, red is a timeless choice.
Red is the traditional color for farmhouses. Before paint was readily available, farmers would seal their barns with linseed oil which was often mixed with red iron oxide to seal the barn's exterior and kill any fungi. This addition turned the barn a rich red color. Today's red house paint color is an attractive nod to the tradition.
'Throughout New England, the Midwest, and other dairy farming regions, the farmhouse trend of weathered red as an exterior color (with white trim) still earns powerful nostalgic reactions from homeowners and especially their guests,' adds Baron Christopher Hanson, luxury South Florida Realtor at EchoFineProperties.
3. Brighten a timeless gray exterior with white accents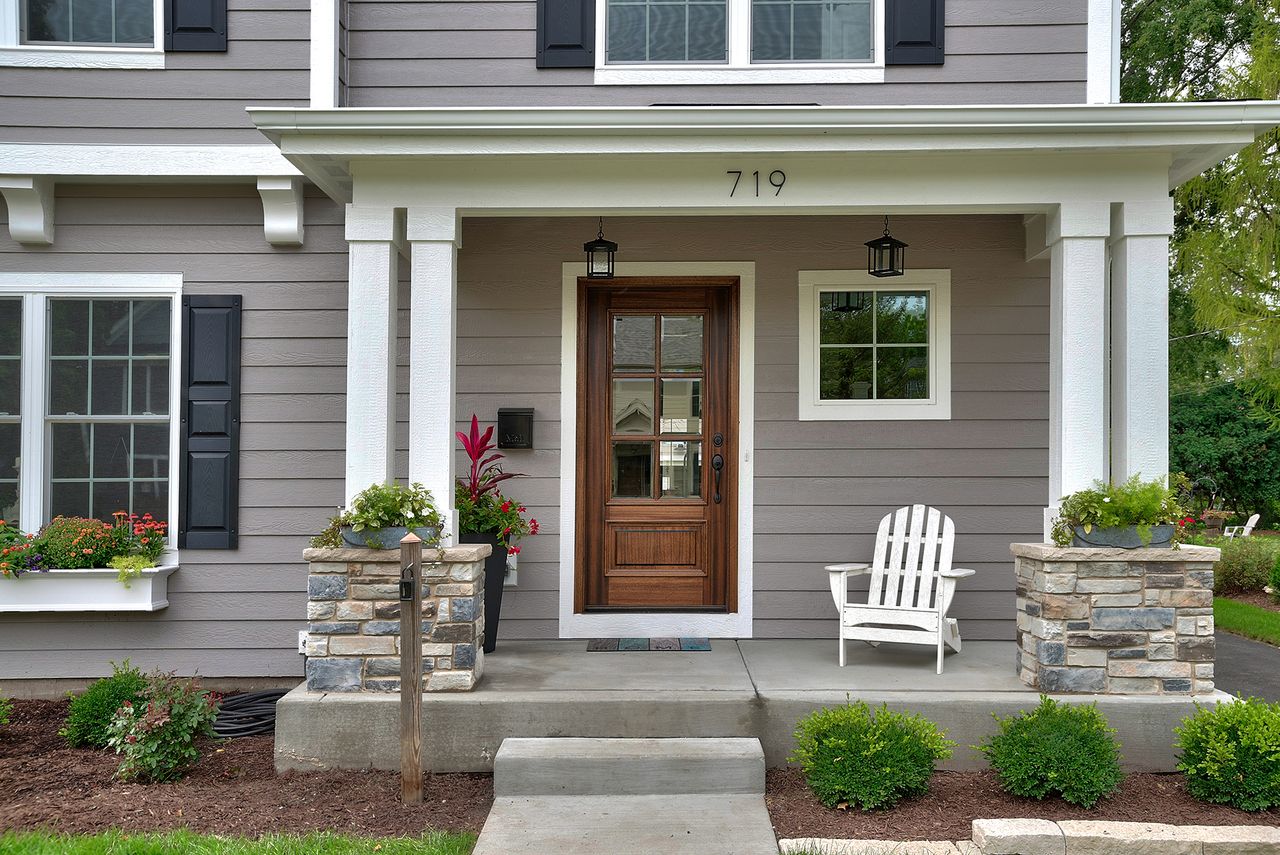 Gray is one of the most elegant and durable paint colors for the exterior of a house. However, if you select the wrong shade it can look dark and unappealing. Therefore, if deciding on gray for the exterior of your home, also factor in ways to brighten the look. Select a gray with warmer, silvery undertones and pair with a clean white gloss for the trim, porches, window frames and door frames to catch the eye and brighten your home's exterior. 
'In the same way you would look at paint colors alongside curtain fabrics and furnishings, consider the architectural elements of your exterior too: do you have red or yellow tone bricks, limestone or granite walls, what color are your roof tiles? Build these into your design scheme to ensure your paint choices are complementary,' says Ruth Mottershead.
'Don't let decorating the exterior be an afterthought, as well as weatherproofing and protecting your home, it's a fantastic way to add design personality and curb appeal.'
4. Select a color to help your house sell faster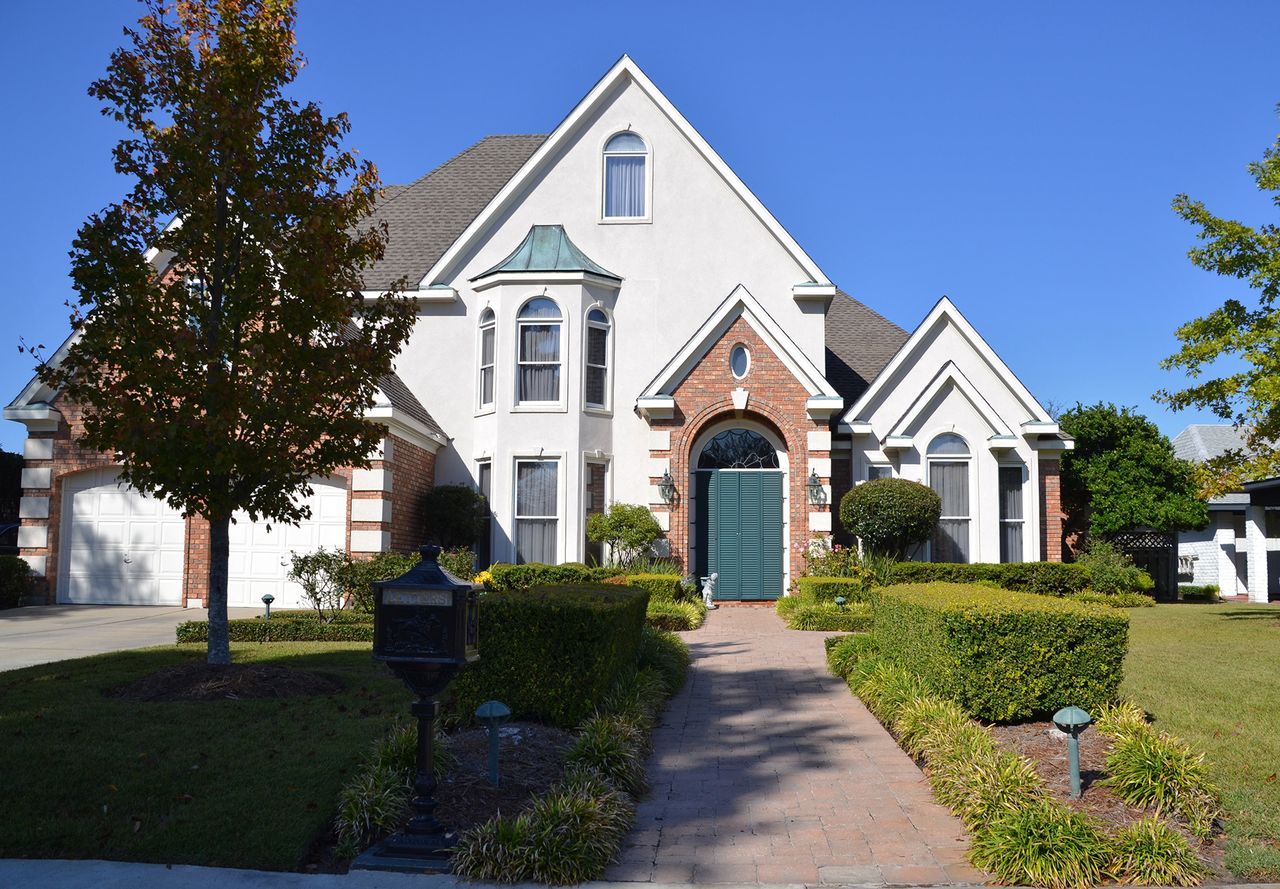 If you are looking to sell your home, then when it comes to picking paint colors for the exterior of a house, the advice is the same as that for painting the interior of a house. 
Painting your house white inside and out is always the best way to sell any property faster. White is also a neutral color that reflects light, allowing landscaping and trim colors to stand out whilst making every room of your house look bigger and reflect even more light indoors. 
'White is also a tabula rasa color that allows buyers to envision their own color palette, skin tones, artwork, and furnishings. If buyers wish to paint a room or wall or door or shutter any different color, white as a base coat is always best,' says Baron Christopher Hanson. 'The advice we give to every seller in any market is simple: paint it all white, inside and out, with one pop of color, and your home will appeal to far more buyers.
5. Select a sunny shade to bring year-round cheer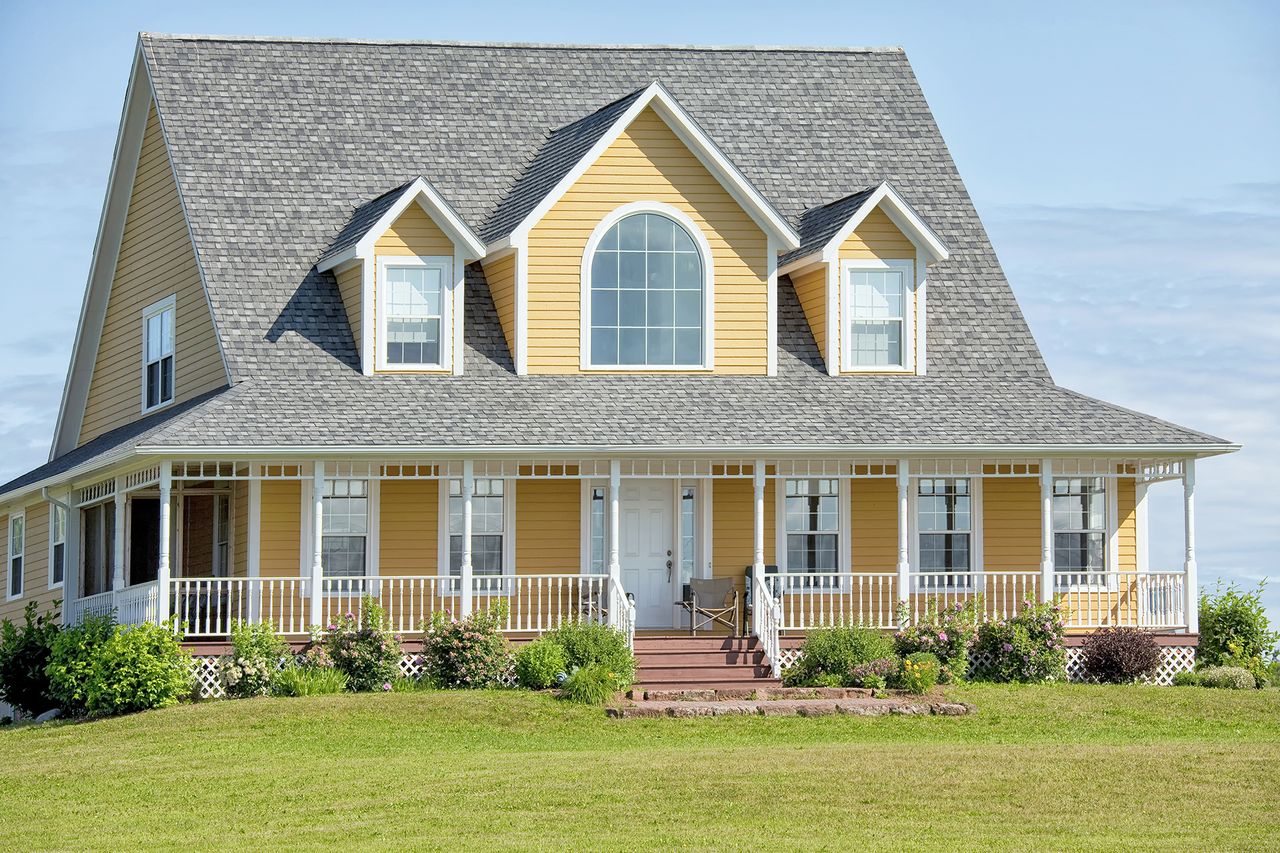 Yellow is a cheery shade that will brighten any home. A favorite shade for interiors – you can't beat yellow room ideas – it also looks great on the exterior of your home.
However, if considering yellow paint colors for the exterior of a house, it is important to carefully consider tone. There is a lot of color variation with regards to decorating with yellow, from a creamy off-white through to vibrant lemon. When choosing paint colors for the exterior of a house, opt for a lighter shade, with mustardy undertones and avoid anything garish – temper the look with a clean white trim. 
'With its bold nature, yellow is a fantastic shade to couple with soft greys as it adds class and intrigue to any outside space. Mixing these shades together through exterior paint can create an immediate, contemporary and on trend exterior space with minimal effort,' adds Matthew Brown.
6. Add color to your home's exterior with blue paint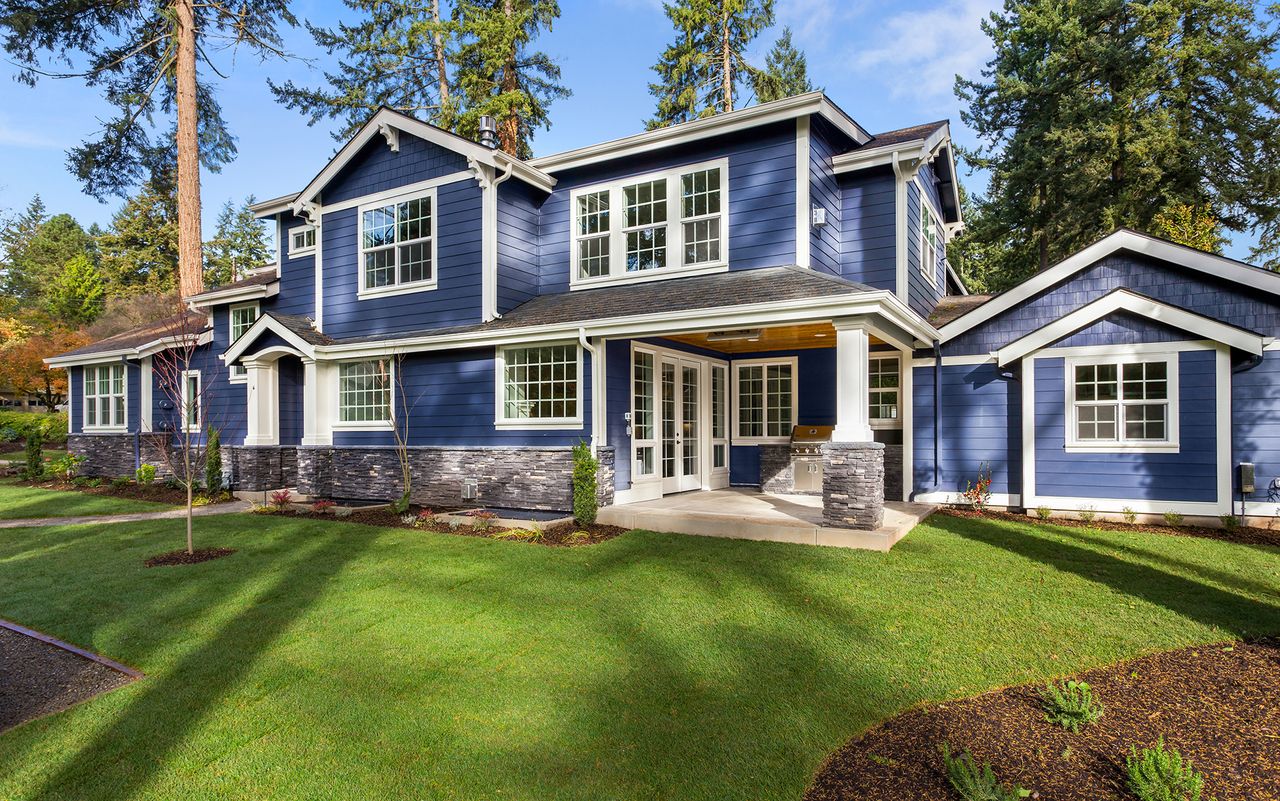 Blue is one of our favorite paint colors for the exterior of a house. While it is still a fairly neutral shade, drawing on the same tones and whites and grays, it will still stand out on your street.
'The rule of thumb is typically to paint your house with colors of your surrounding environment. For instance, you'll see many beach houses painted a light blue, whereas in the mountains you'll see a lot more brown,' says Matt Woods, co-founder and CEO of SOLD.com.
'In fact, many Homeowner Associations have rules that their homes must be painted to match their surroundings. This goes for aspects of the exterior such as the trim and the shutters, and is meant to help your home look more natural in its environment.'
7. Opt for on trend griege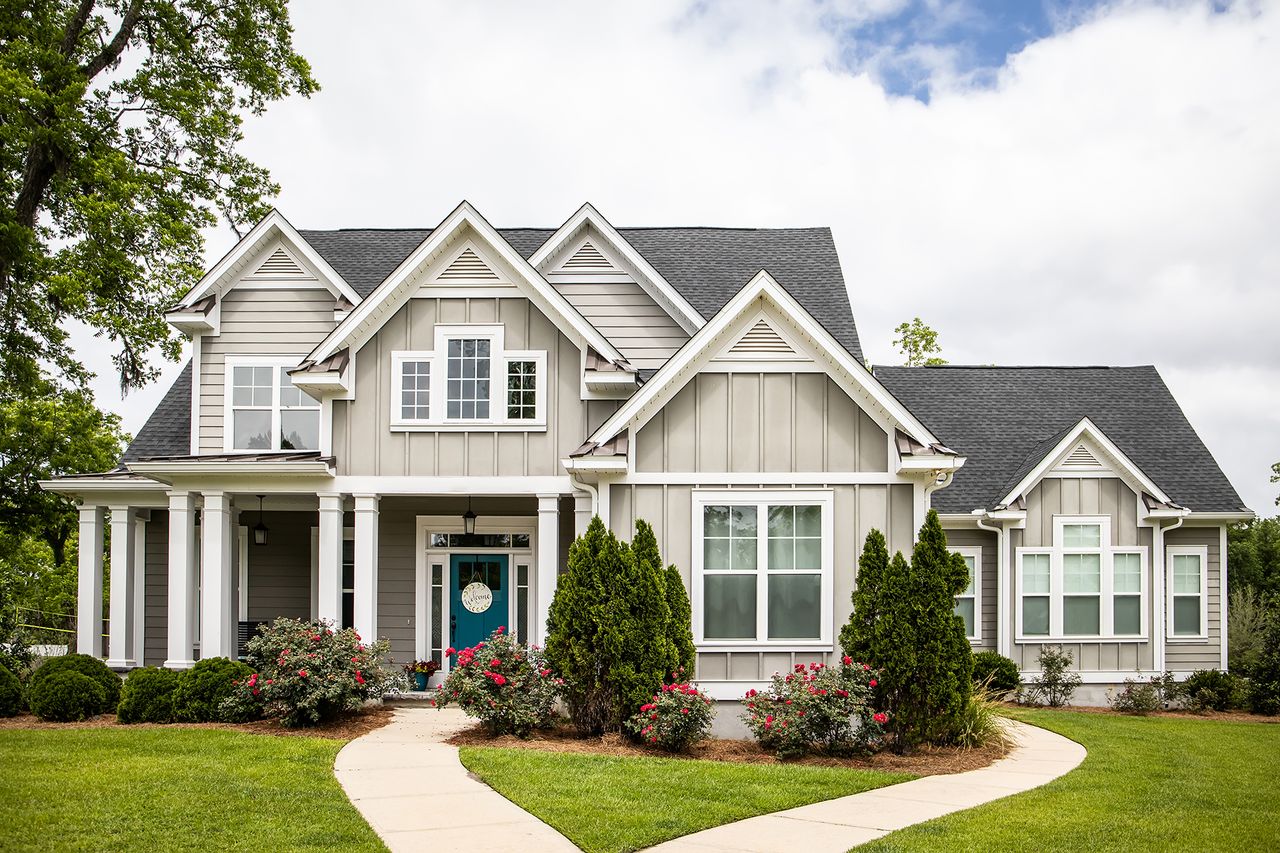 Greige, a mix of gray and beige, is having a real moment. The beige-gray color trend is taking interiors by storm and is also one of the best paint colors for the exterior of a house. Greige works well with many different styles and is an interesting, yet neutral shade.
An added benefit of selecting greige paint colors for the exterior of a house is that it leaves you free to be more creative with your front door color ideas. Every color from warm reds, pinks and oranges through to cooler greens and blues will look great set against a greige house. 
If you are thinking of selling your home, greige is also a great choice. 'Neutral colors, like grey, white, beige and greige, are widely accepted by most potential buyers as something they can easily move into and not deal with when they take possession,' says Geoff Sharp, president and owner of Sharper Impressions Painting.
8. Opt for a dark color for a modern look in cooler climates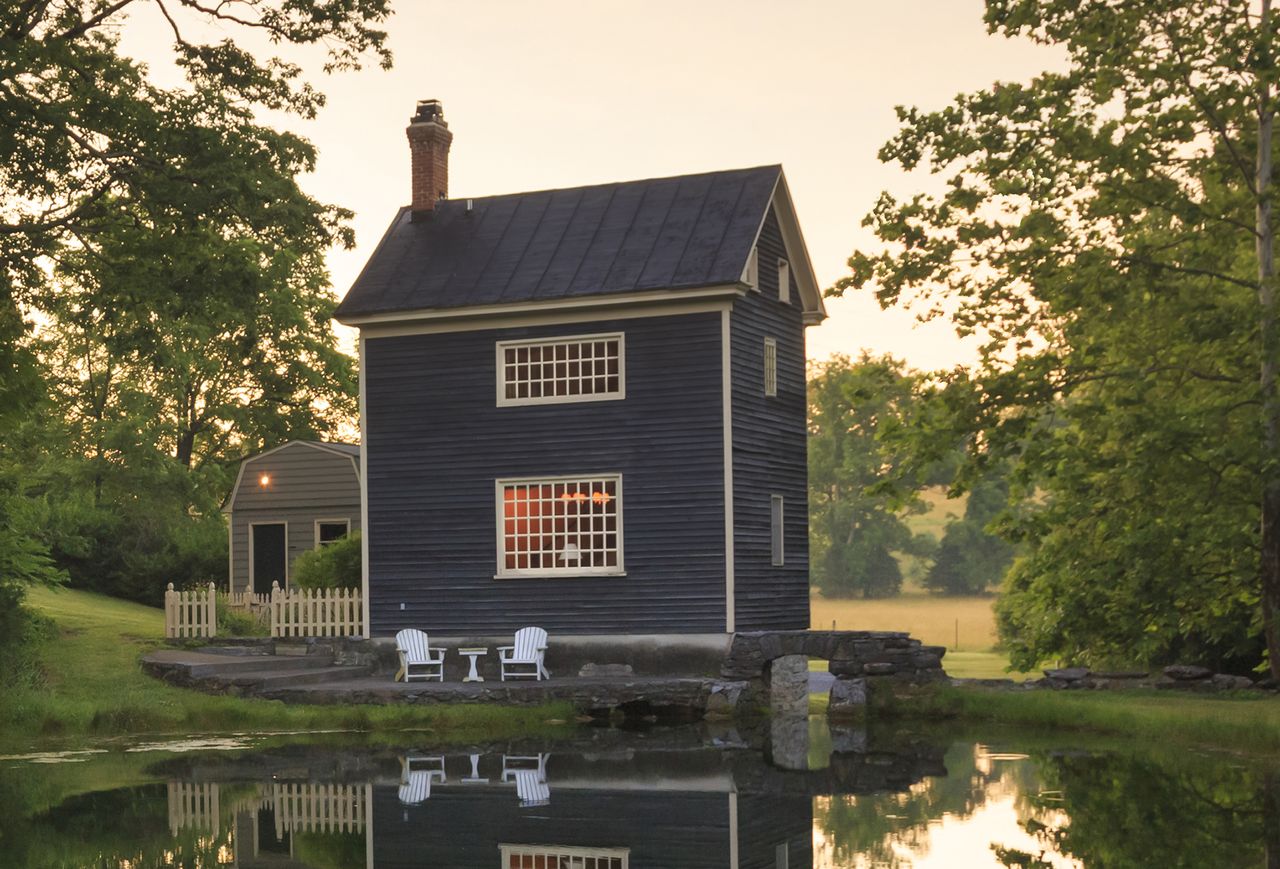 For a modern look, consider dark paint colors for the exterior of a house. However, you need to be careful when opting for darker shades, especially if you live in a warm part of the country. 
Dark colors absorb both light and heat, and as such will make your home feel warmer. While this is a great choice if you live in a cooler place where you are actively trying to increase the insulation of your home, dark colors should be avoided if you want to keep your home cool. For these houses, light colors are better for as they help to reflect light and keep your home cool.
If opting for dark paints colors for the exterior of a house, then be sure to lighten the look with a bright white shade for the trim and opt for colorful front door ideas too. 
9. Go bold with your roof color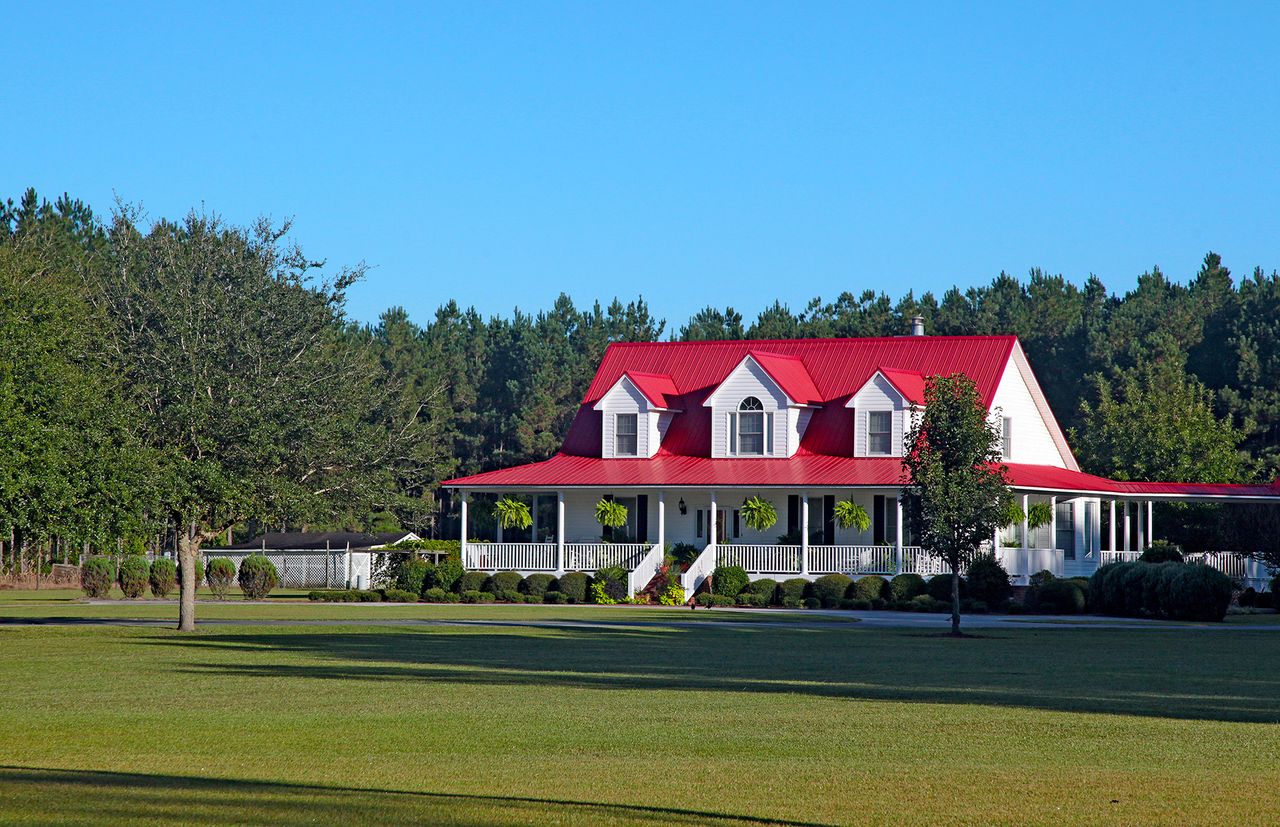 If you're feeling a little apprehensive about selecting bold paint colors for the exterior of a house but still want a pop of color, consider opting for a colorful roof. White walls will bring all the benefits of painting your home white, however topping with a bright roof will add a little bit of personality to your home. This red and white combo is classic and eye-catching in equal measure. 
10. Consider your region when choosing colors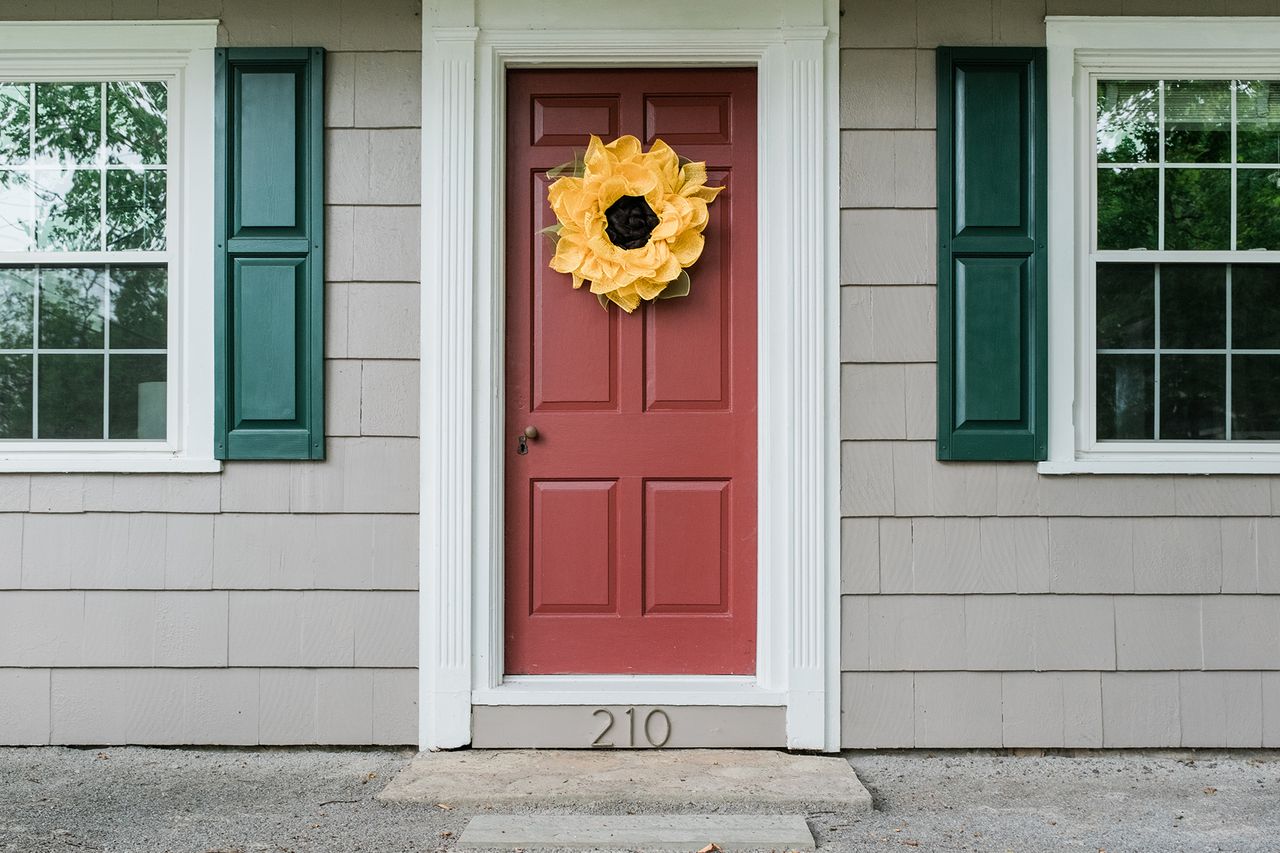 Color will always catch the eye but it is important that it fits in with your region and the colors of your neighbors' homes. Avoiding clashes is key and one of the easiest ways to do this is to opt for white paint colors for the exterior of a house, but then pair with colored trim.
'The exterior of any home should always consist of white and one other accent color for doors and trim, depending on your region, climate, flora and fauna, and style. In South Florida, tropical colors can produce a delightfully elegant trim effect: Cantelope, mango, seafoam, pink ground, or orange blossom. In New England, fire engine red, navy blue, or black can be as rustic as they are traditional. In Charleston, South Carolina, Hale navy, Repose gray, caramel, or Dishy Coral (works in South Florida as well),' says Baron Christopher Hanson.
How many colors should a house exterior have?
The house exterior should have at least two colors, one for the trim and one for the body. However, don't go over board. 'Excluding the roof, the exterior of a house should have no more than three colors,' recommends Melanie Hartmann, owner of Creo Home Buyers.
What exterior colors make a house look bigger?
Bright, neutral colors like whites and pale colors will help to make a house look bigger. Just as when it is used for interiors, bright, light colors such as whites, light grays and even pale yellows will reflect light and help to make your property appear larger.