Gray flooring ideas can create a timeless and versatile feature in your home. 
The floor in a room is often the largest surface area to cover, so getting your flooring ideas right can really make or break the style and look of a space. 
The color gray is an enduring neutral shade that has seen immense popularity in interior design over the recent years. Its ability to integrate into both bold and subtle designs make it a truly adaptable color to work with. 
Decorating with gray and using gray flooring ideas in the home can provide a grounding foundation for a room design, no matter the size and style of the space.
Gray flooring ideas – 12 stylish options to inspire
Whether you're planning to use marble, stone, vinyl or wood for gray flooring ideas, we have collected our top designs to help you make the perfect decision for your space.
1. Choose large gray format tiles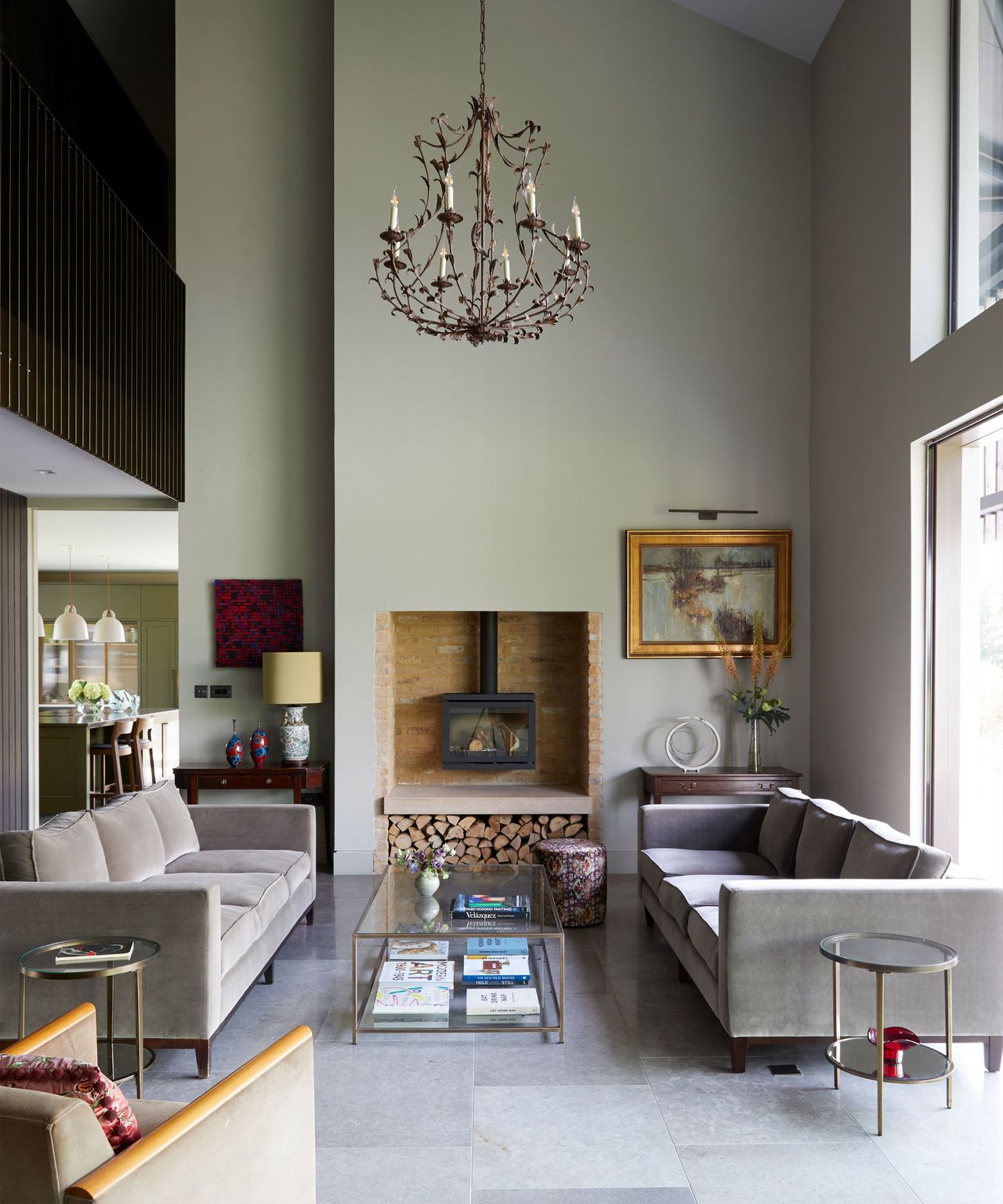 Large format tiles can elevate the feeling of space in a room – ideal for gray flooring ideas in both compact and spacious environments.
In this beautiful, open-plan living area, the large gray format tiles complement the extensive room proportions and vast feeling of space. The gray stone design of the tiles works well with the overall calming, neutral color palette in the room, as well as adding a traditional element to the large, modern space. 
Large format tiles, especially in the color gray, can integrate into homes of all shapes, sizes and styles, creating a sleek, continuous design that is highly functional.
2. Add texture and warmth with a gray rug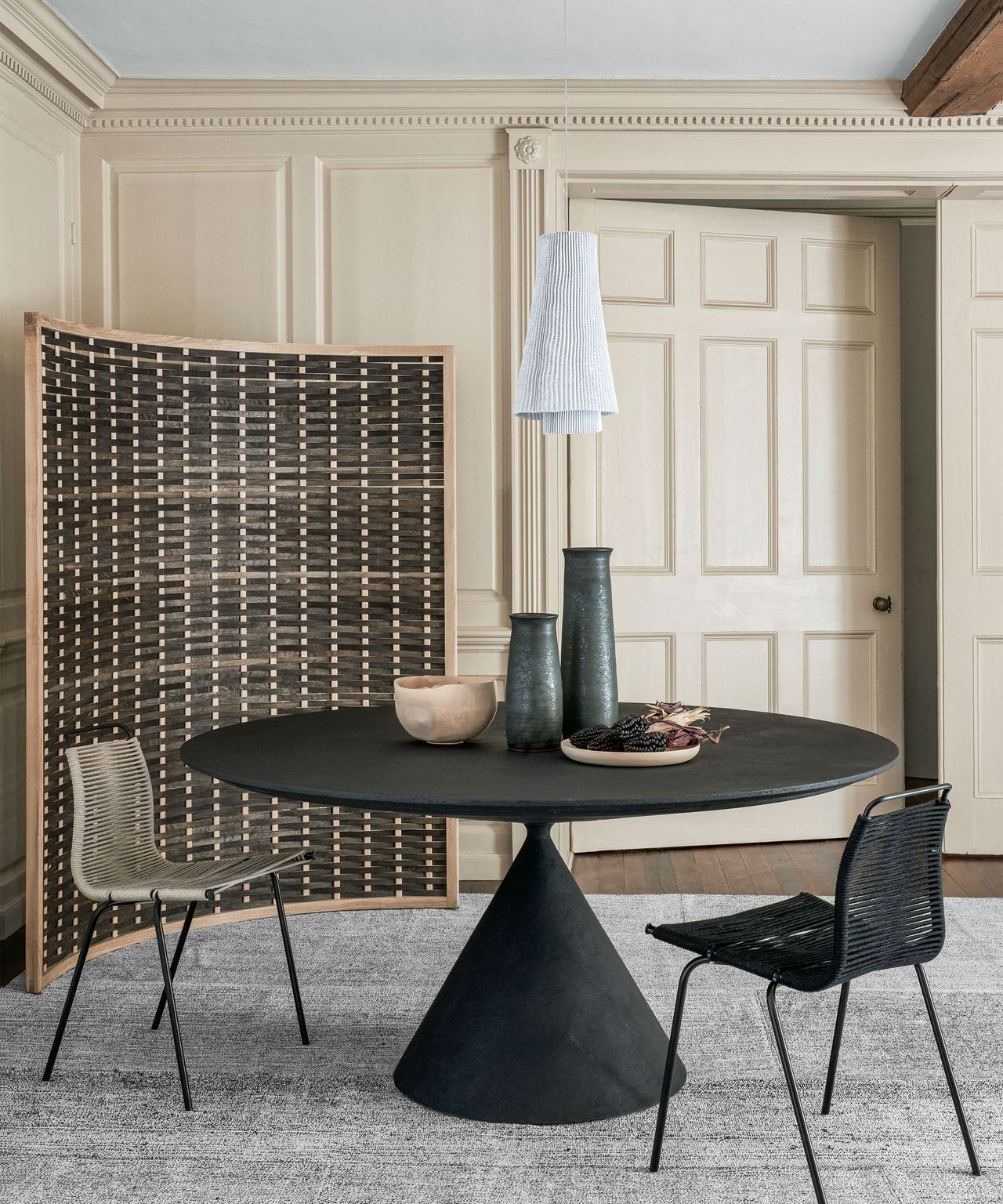 For a flexible gray flooring idea, adding a gray rug over the top of your existing flooring can easily transform the look of a space, ideal for living room flooring ideas. 
Whether you want to add a gray element to your existing scheme, or simply want to create a feeling of coziness in a room, a gray rug is a versatile option.
The large gray rug used in this dining room adds an appealing layer of texture and warmth to the overall minimalist design. The gray rug also acts as a point of connection in this room, uniting together the contrasting materials, colors and textures to create a dynamic mix of the traditional and the modern.
3. Pick a patterned gray tile design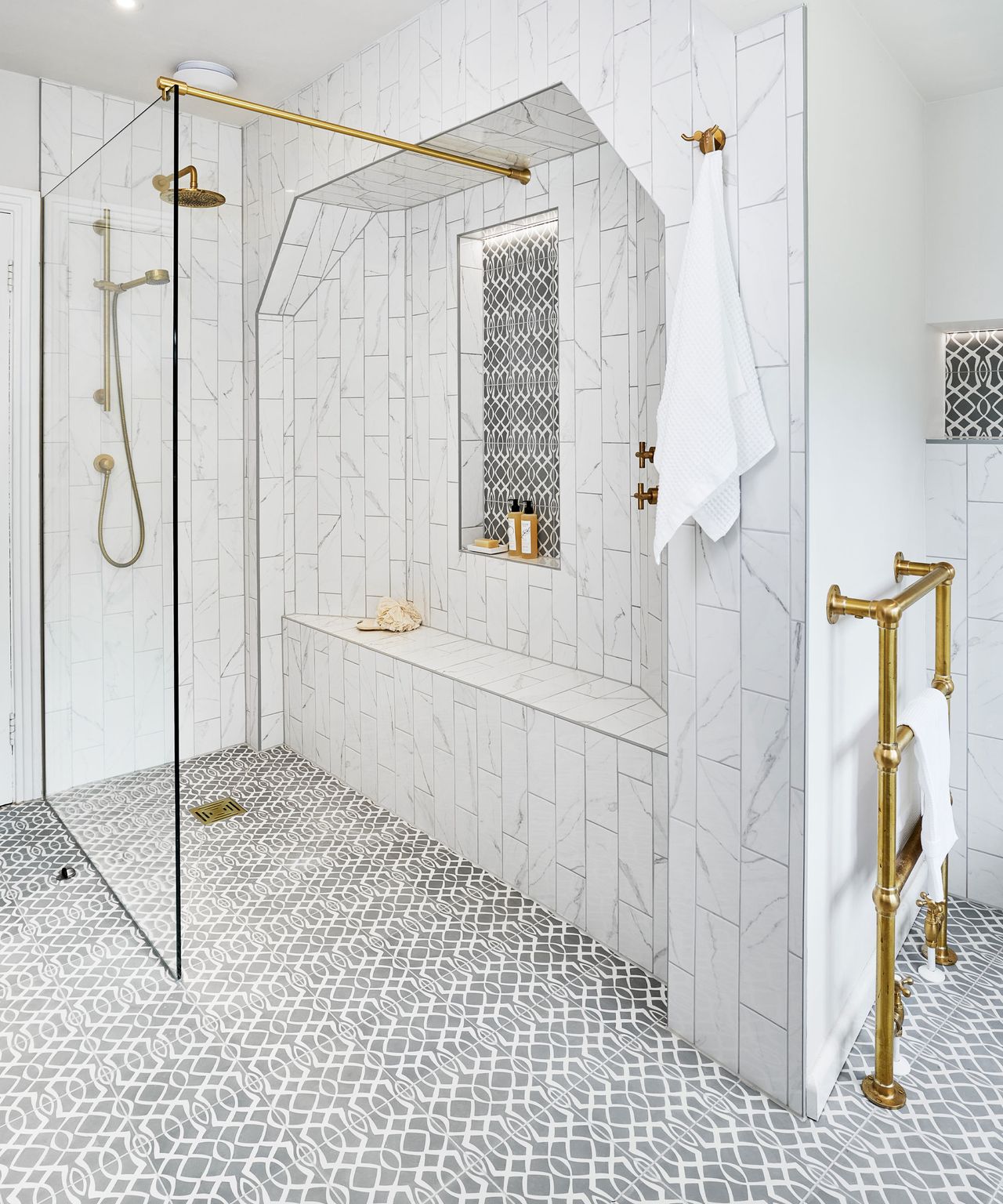 Whether you're looking for gray bathroom tile ideas, or for a unique gray tile design for kitchen tile ideas, choosing a patterned gray tile can add visual interest and personality to your floor.
In this bathroom, the statement gray and white patterned floor tiles create a unique and stand out bathroom space. The intricate pattern forms a stylish contrast with the sleek, white marble design, with the gray color keeping the overall design neutral and relaxed. 
The floor tile design is further elevated by also being used in small areas on the wall, creating a sophisticated and cohesive space – one to remember for bathroom wall tile ideas.
4. Use gray vinyl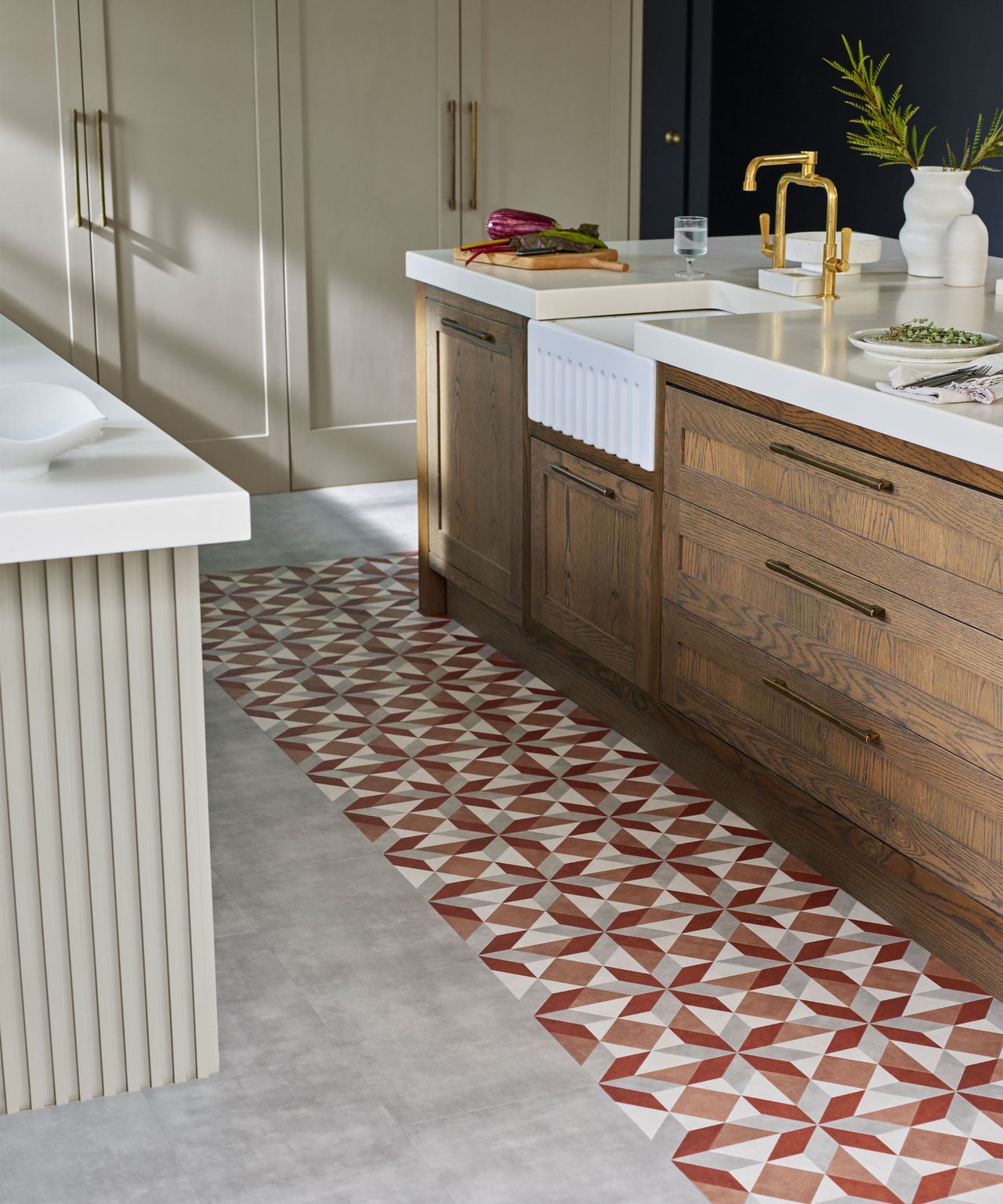 'Using vinyl flooring in the home is both practical and cost-effective, with there being many unique designs to choose from to best fit your space,' says Homes & Gardens' Editor in Chief Lucy Searle.
Gray vinyl can be used in pretty much every room throughout the home, and is a long-lasting flooring option in both style and durability. 
The eye-catching LVT flooring in this kitchen is a result of a collaboration between Amtico Flooring and the National Trust. The smooth, stone-effect gray vinyl floor has been beautifully elevated by the added element of a traditional, Victorian Star tile design in bright red and orange. The pattern creates a striking focal point in the room and grounds the kitchen island to the space, with the surrounding gray color instilling a sense of calm.
5. Create comfort with gray carpet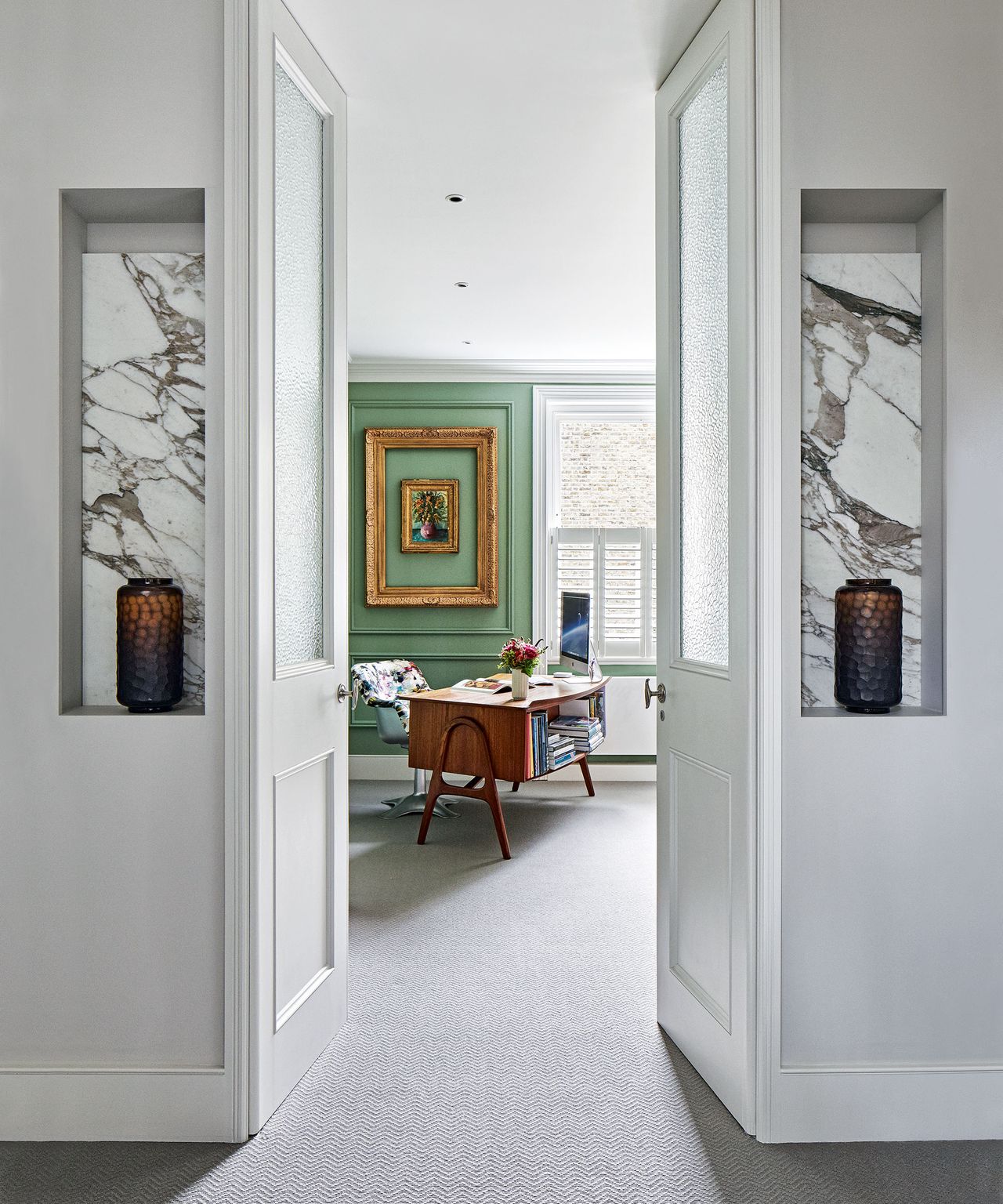 Using carpet in the home can make your space feel welcoming, cozy and relaxed. When trying to decide on the right carpet color, gray offers an adaptable option that can cater to changing styles and tastes over time, ideal for living room carpet ideas.
Carpet trends for 2022 see a real focus on neutral shades and creating an organic, natural landscape within the home.
Choosing a carpet shade such as gray can not only add value to your property, but it can create a neutral foundation that doesn't overcomplicate the design scheme in a room. When planning bedroom carpet ideas, using gray carpet is a simple way to make a room feel calming and inviting.
6. Embrace warm, beige-gray flooring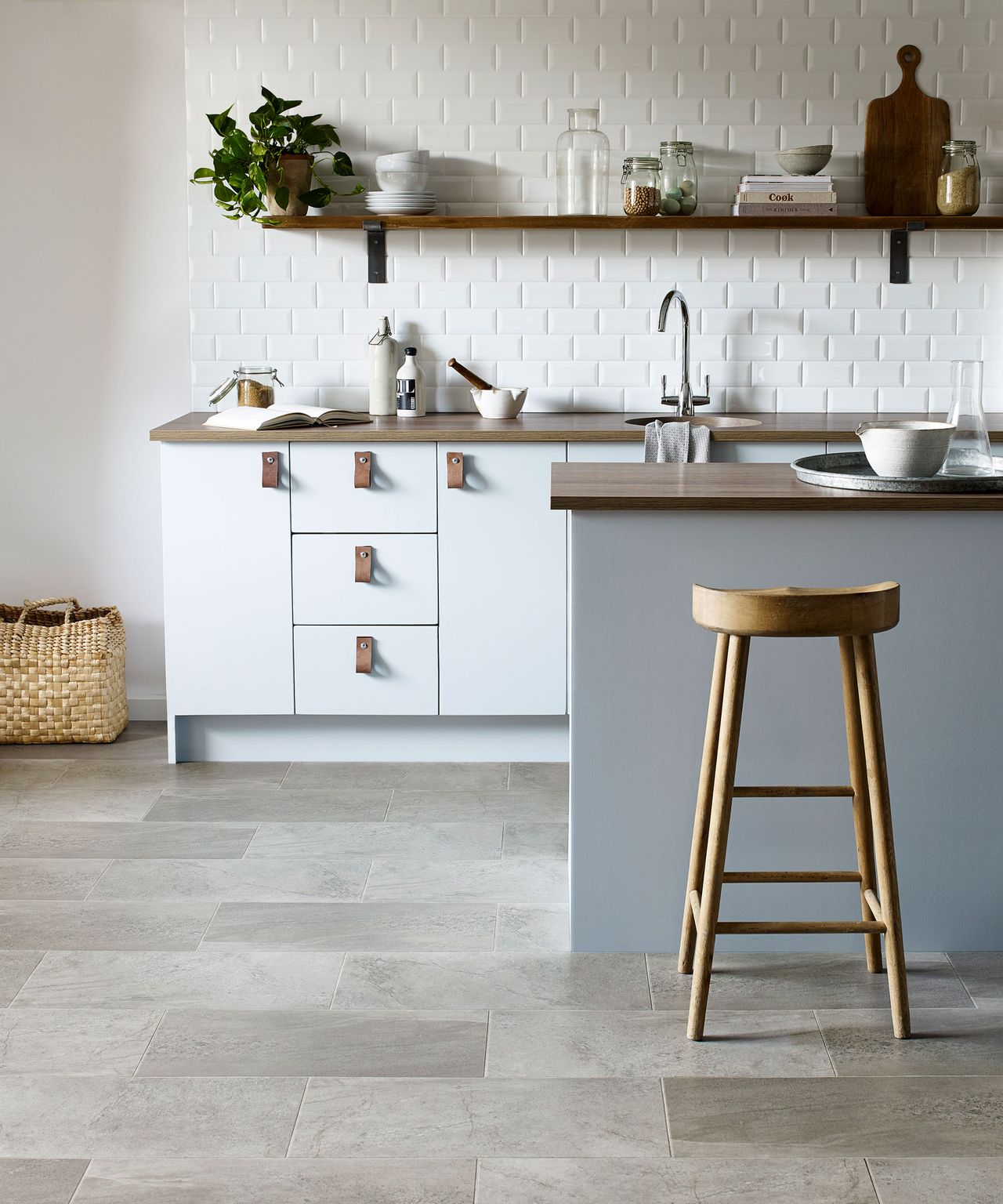 A soft shade that combines two classic neutrals, recent trends show that the color beige-gray is being used throughout the home to create a timeless neutral scheme. 
A shade that can be considered a warm gray, beige-gray is perfect for creating an inviting atmosphere with for your gray flooring ideas, coordinating with both traditional and modern spaces – a versatile choice for kitchen flooring ideas.
Sue Wadden, Director of Color Marketing at Sherwin-Williams, states 'over the past few years, we've begun to see popular tones of gray shift from cooler, modern tones to warmer hues inspired by nature.'
In this kitchen, the vinyl beige-gray flooring in a classic stone style beautifully complements the natural dark wood countertops, shelving and natural wooden bar stool. 
7. Use gray stained wood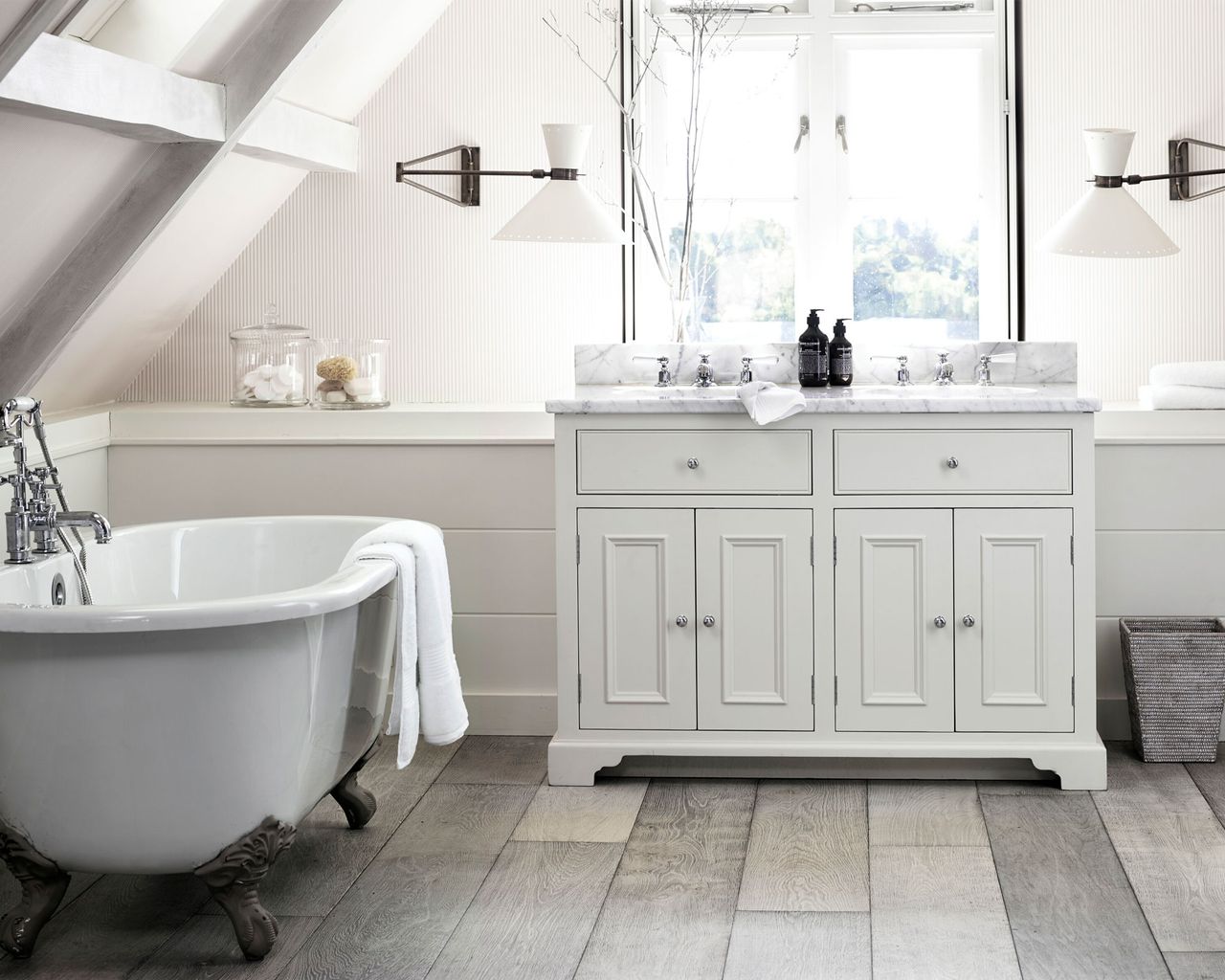 Using gray stained wood for your gray flooring ideas adds a contemporary twist to a traditional wooden flooring design.
'Bringing an appealing element of the outdoors and the use of traditional materials into your space, wood flooring ideas, whether you use solid wood, engineered wood or laminate and vinyl designs, can add a rustic touch to your interior,' says Jennifer Ebert, Homes & Gardens' Digital Editor.
When planning bathroom flooring ideas, using a gray stained design can enhance the beauty and grain of the wood, as well as create a stylish, modern statement that celebrates the color gray.
8. Create contrast with your gray flooring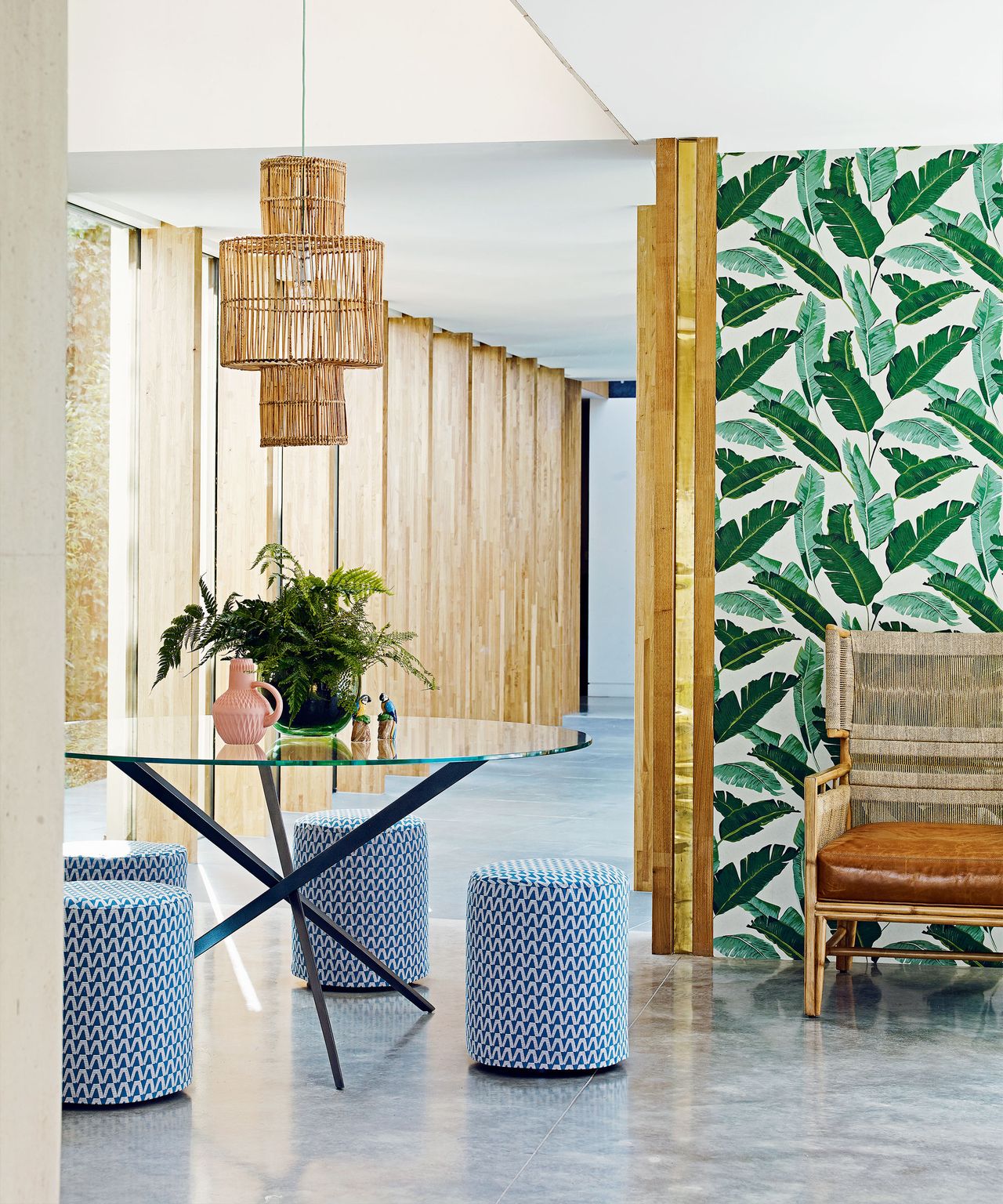 As discussed, gray flooring works wonders for neutral room ideas, however, it can integrate just as well into a bold, bright scheme full of color and pattern.
In this open-plan living space, the room is defined by contrasting colors, textures and prints. The smooth, screed gray floor acts as a subtle platform for the colorful wallpaper and furniture designs, allowing for them to take center-stage. 
The flooring does not completely blend in however, the gray color and dappled, textured design creates a subtle, elegant contrast with the other bright colors used, only adding to the rich and varied scheme.
9. Choose luxurious gray marble flooring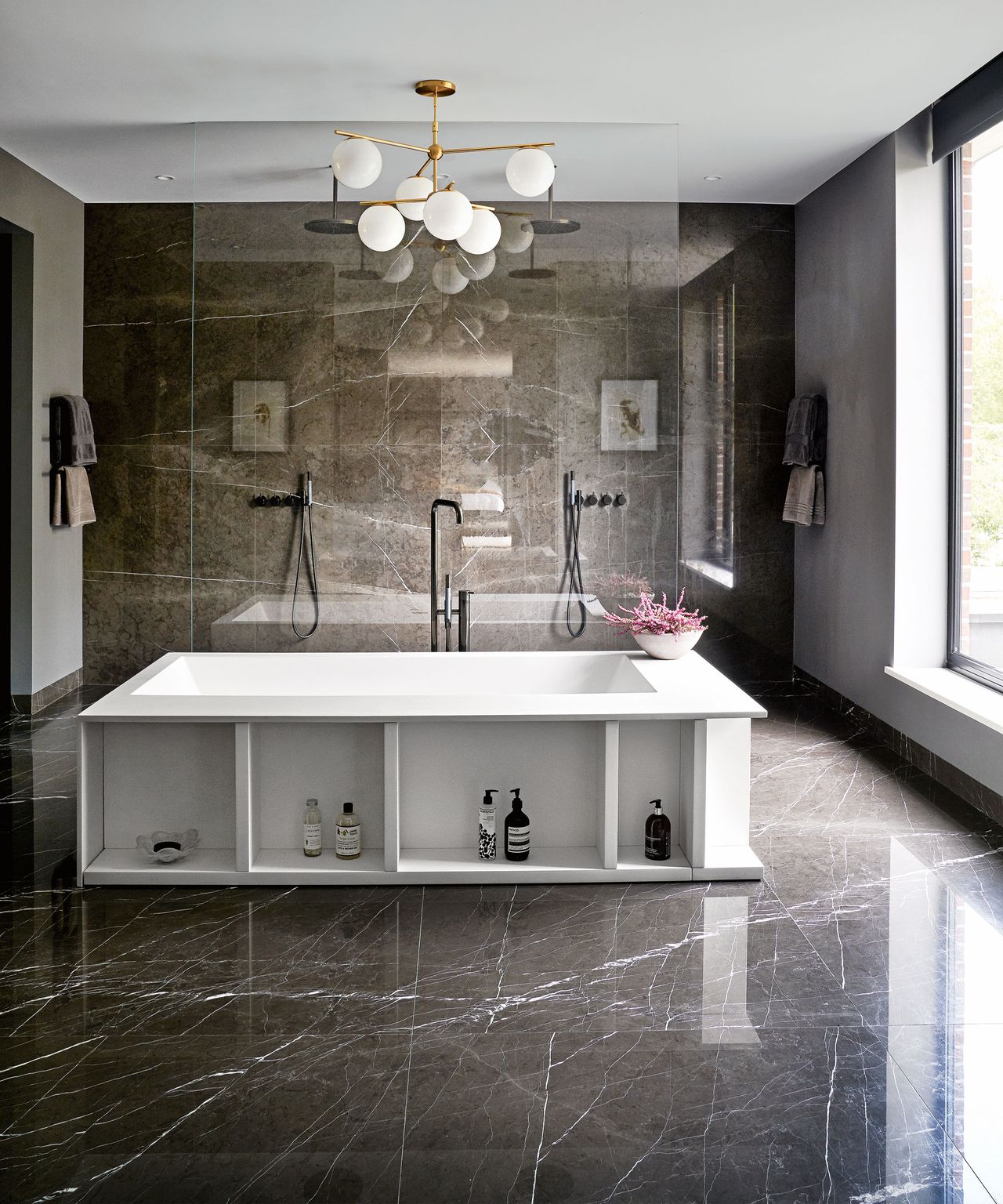 Using a natural gray stone for your gray flooring ideas can create a hard-wearing and sophisticated design that pays homage to the beauty of natural materials. 
When considering stone flooring types, marble can create a luxurious and truly stand out effect in your home. 
In this large bathroom, the stunning gray marble tiles have been used throughout to create a lavish, spa-like space. The dark gray finish creates a bold design that oozes sophistication and timeless elegance.
Gray marble may not be the cheapest option, but marble bathroom flooring ideas can be both beautiful and extremely durable, making the material a long-lasting choice for flooring ideas.
10. Create a smooth surface with gray concrete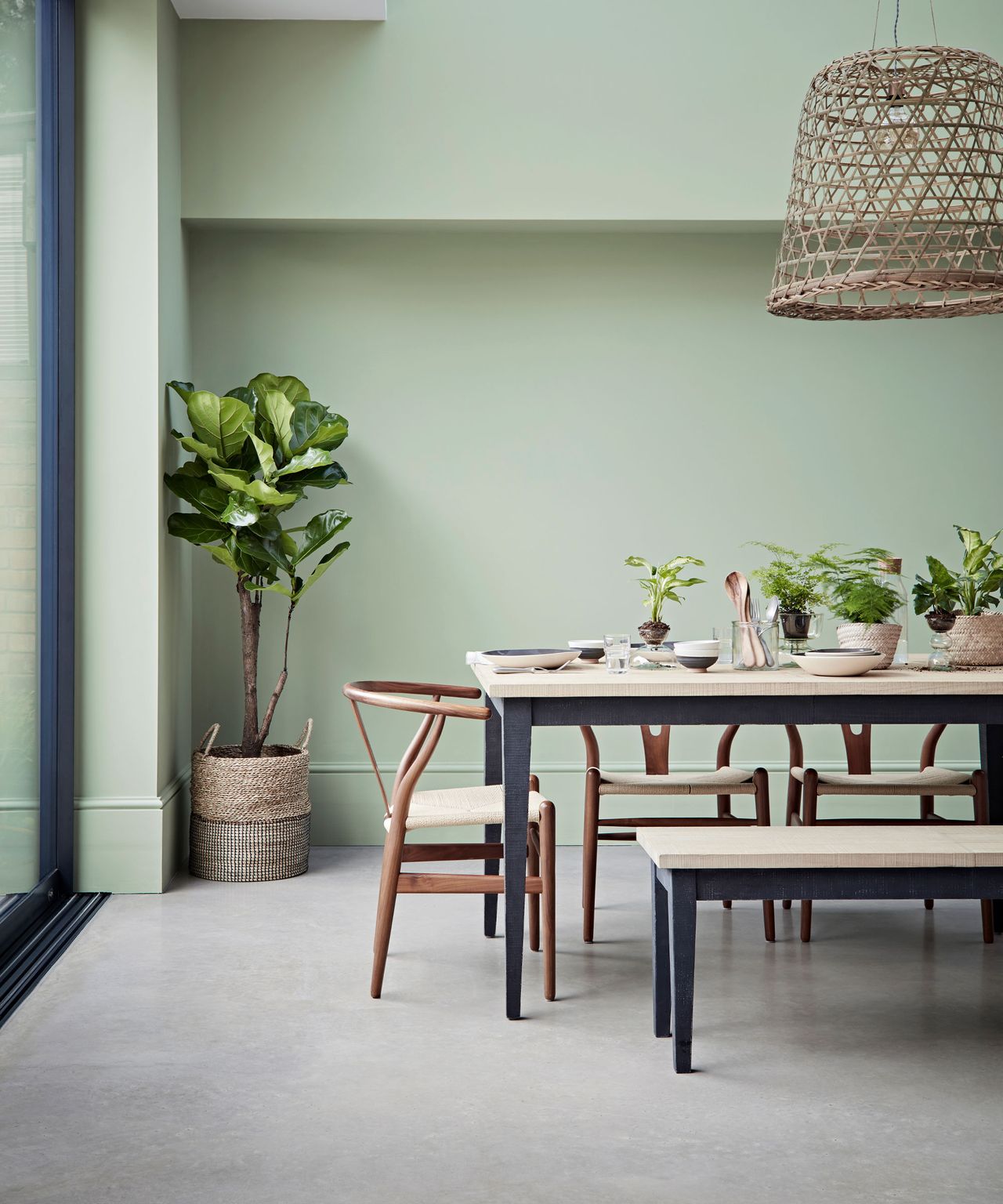 Once purely associated with construction and outdoor spaces, using concrete in the home, from flooring to striking exposed foundation ideas, can create a unique, industrial decor effect.
'The cool, calming gray color of concrete makes for a great option for gray flooring ideas. When polished, the smooth surface can create a similar effect to that of a glossy ceramic tile or natural stone floor design,' says Homes & Gardens' Editorial Director Sarah Spiteri.
The strength and practicality of concrete also make it ideal for high-traffic areas which receive a lot of hard use, as it is both immensely durable and easy to clean.
Whether your home is more classic or contemporary in style, there are rustic and modern options to choose from to best suit your space.
11. Extend a gray wall tile design to the floor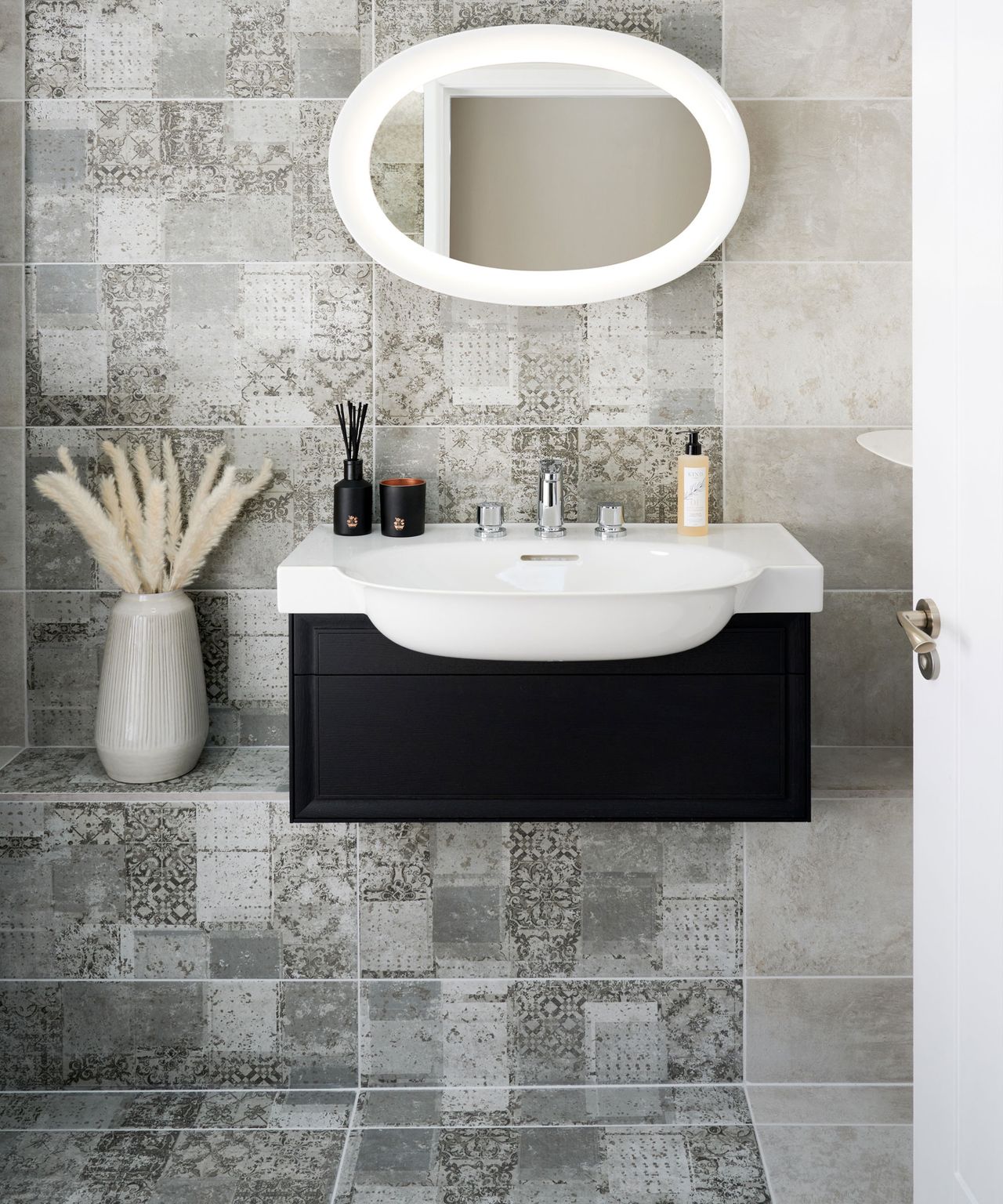 A simple way to create a striking design statement, extending your gray wall tile design to the floor can establish a seamless look. 
Ideal for a bathroom tile ideas, this beautiful, gray collage of subtle mosaic patterns and shapes create an intricate and eye-catching design. Complemented by larger, warming gray tiles, the relaxing gray color palette is perfect for a bathroom space, with the extended tile design making the room feel like its your very own, at home spa space.
12. Use different shades of gray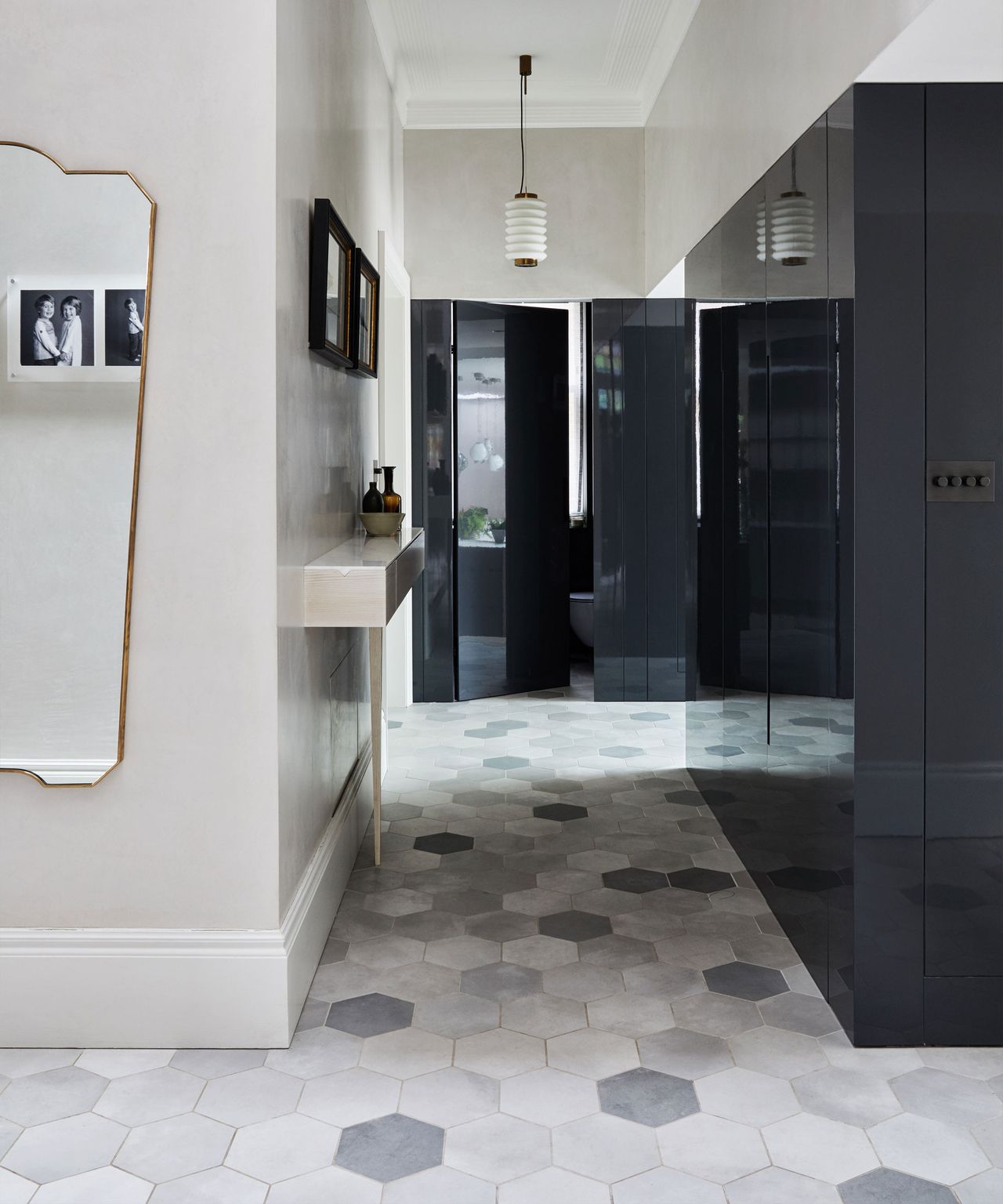 Using different shades of gray for your gray flooring ideas, whether that be through tiles or a patterned carpet or rug design, can celebrate this versatile neutral shade.
The elegant, hexagonal floor tiles used this hallway space create a varied design through a tonal gray scheme, with the different shades used adding character and interest to the modern hallway – great for hallway flooring ideas.
What colors go best with gray flooring?
One of the beauties of working with gray flooring is that it can pretty much coordinate with any color or style.
Whether you home is modern and minimalist and you opt for concrete flooring, or you have traditional gray stone flooring and are looking to change the style of the space, you do not need to worry about gray flooring ideas not integrating into your scheme.
Justyna Korczynska, Senior Designer at Crown Paints states when working with gray in interior design, 'really anything goes – a shocking pink, a touch of metallic, a deep mustard – you need to choose the atmosphere that you want to create, and decide whether that means you want to use deep and dramatic tones, or light and reflective ones.'
Is gray flooring a good idea?
Overall, gray flooring is always a good idea for use throughout the home. Working with a neutral color such as gray offers a versatile foundation that can stand the test of time in an interior space.
From calming, relaxed environments, to lively rooms filled with color and pattern, using gray flooring can make a design in a room feel grounded and timeless. 
With there being an array of  options to choose from, you can tailor your gray flooring design to effortlessly complement and integrate into your space.