Bedroom layout ideas with a desk are a practical way to create workspace in properties that do not have room for a home office and have become increasingly popular in recent years as more of us than ever are working from home.
'Our homes are having to work harder than ever to adapt into multifunctional spaces, that create a balance between work and play,' explains Rachal Hutcheson,  national retail manager at Sharps. 'If your bedroom is now also your working area, a clutter free tidy desk space, in a previously unused corner, will aid a healthy work life balance.' 
Being a space of relaxation, incorporating a desk into a bedroom does come with challenges, but with some clever thinking there are plenty of ways to create a multi-functional space. Whether you're thinking of incorporating a desk in a large master bedroom or in a teenager's bedroom, we've gathered a selection of bedroom ideas for incorporating desks to help get you inspired, along with some handy advice from the experts. 
Bedroom layout ideas with a desk – experts tips for arranging your sleep space
When designing bedroom layout ideas with a desk it is important to first take into account the size and shape of the space. Before you rush out and buy a desk create a floor plan including dimensions of the room and any doorways, windows as this will make it clearer where furniture is best positioned and what types of desks might fit best. 
There are many freestanding desks available which can easily be moved around if needed, but it is also worth considering bespoke built-in options for small bedroom ideas as these will make maximum use of the space available.
1. Zone the space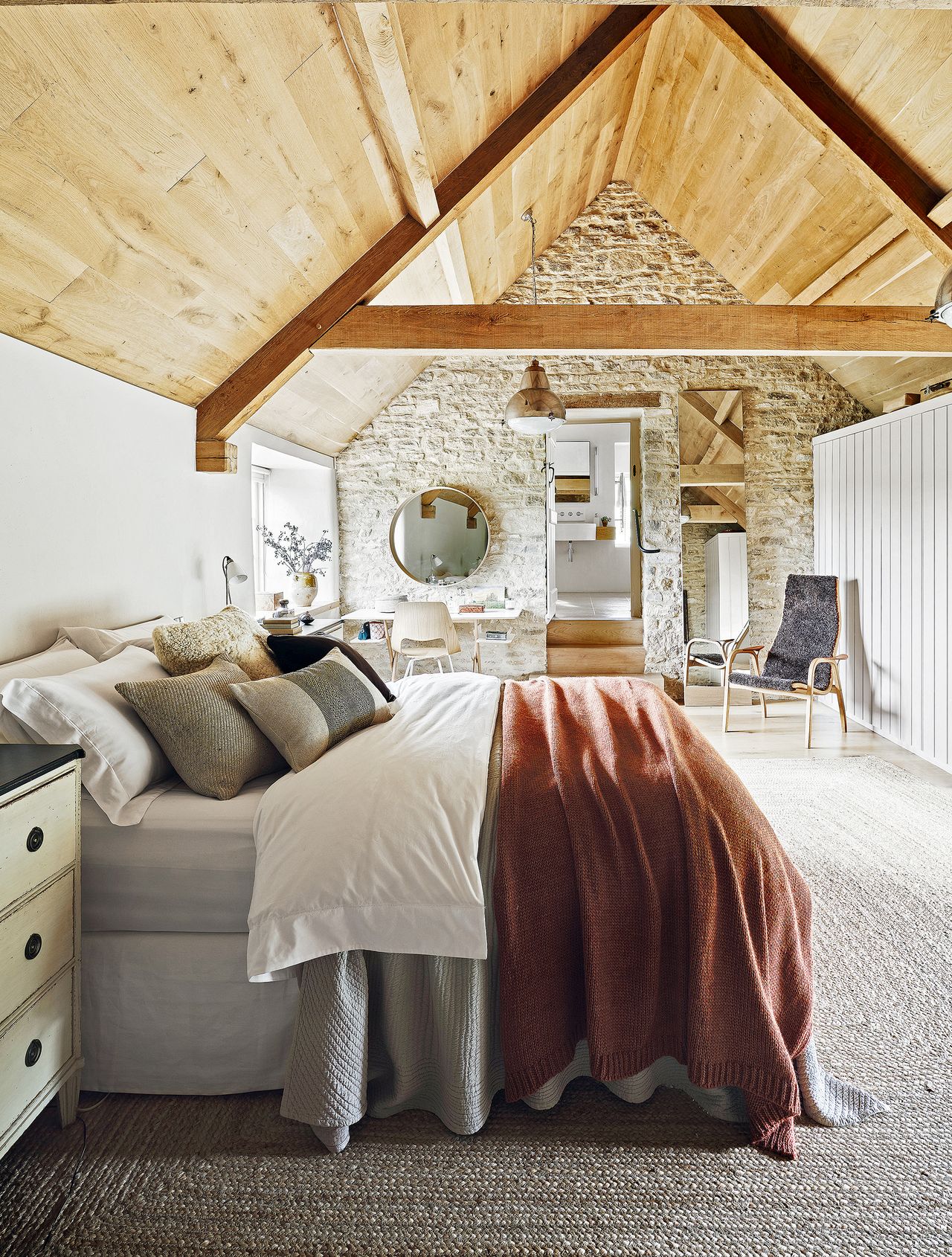 If you are thinking of using your bedroom as an office space during the day then it is important to position the desk away from your bed to ensure you can switch off at the end of the day. If you have a large, main bedroom, position the desk so that you are facing away from the bed whilst working and as far from it as possible, say experts, as this will help distinguish work time from relaxation time.
'Most people want their bedroom to be a place to relax and unwind so if you are also using it as a workspace, try to position the desk further away from the bed to create a separate space in the room,' says Sarit Marcus, professional interior designer and founder of Minted Space. 'I recommend putting the desk on a separate wall from the bedroom.' 
2. Add a desk between fitted wardrobes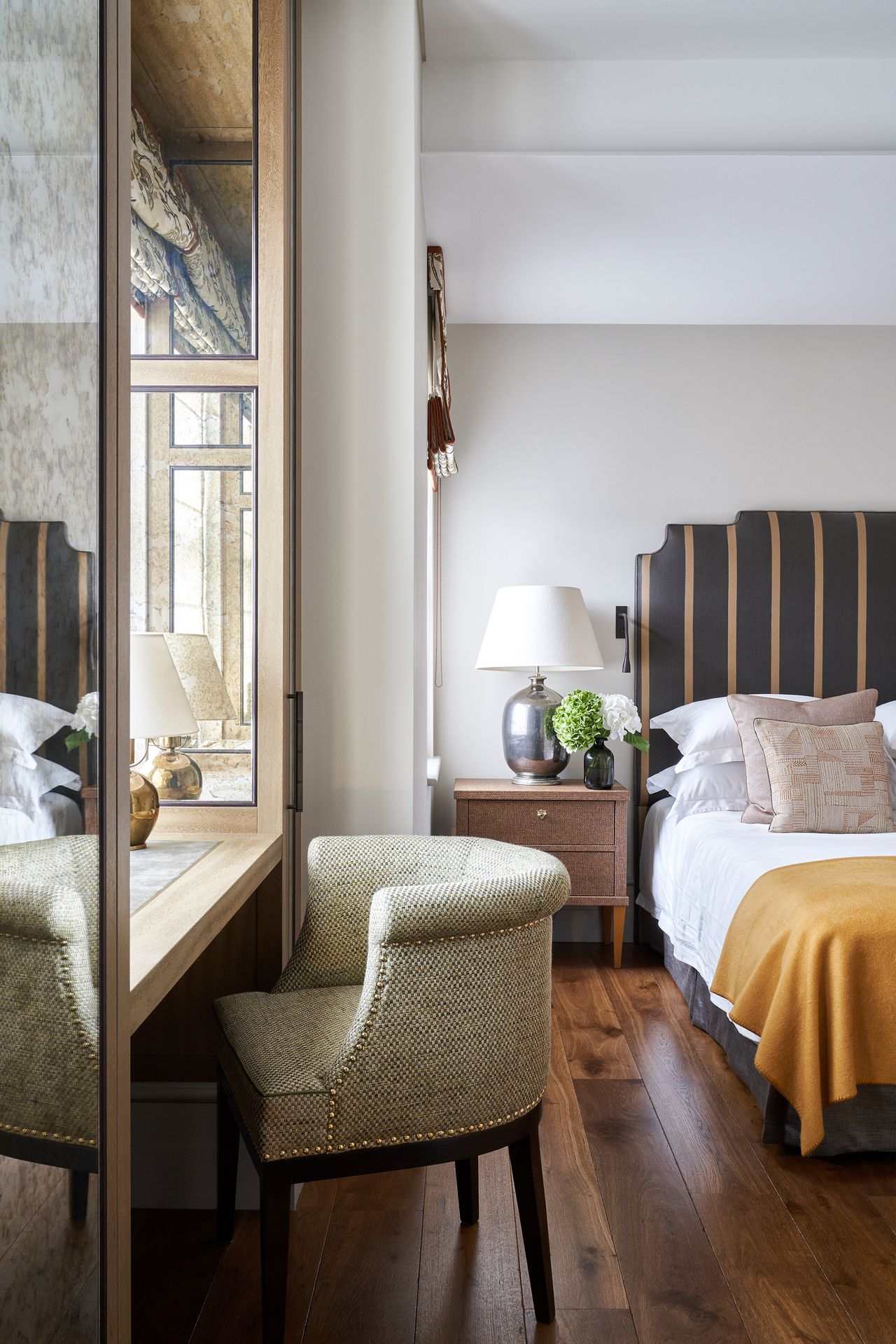 If space is at a premium, or if you are after small bedroom layout ideas, then opting for a desk fitted as part of a bespoke bedroom storage idea is guaranteed to make the most of the space available. For a neat, streamlined solution that works with the architecture of your room consider fitting the space around the window with floor-to-ceiling closets and using the space beneath the window for a light-filled desk or dressing table area as demonstrated here. 
3. Place the desk by a window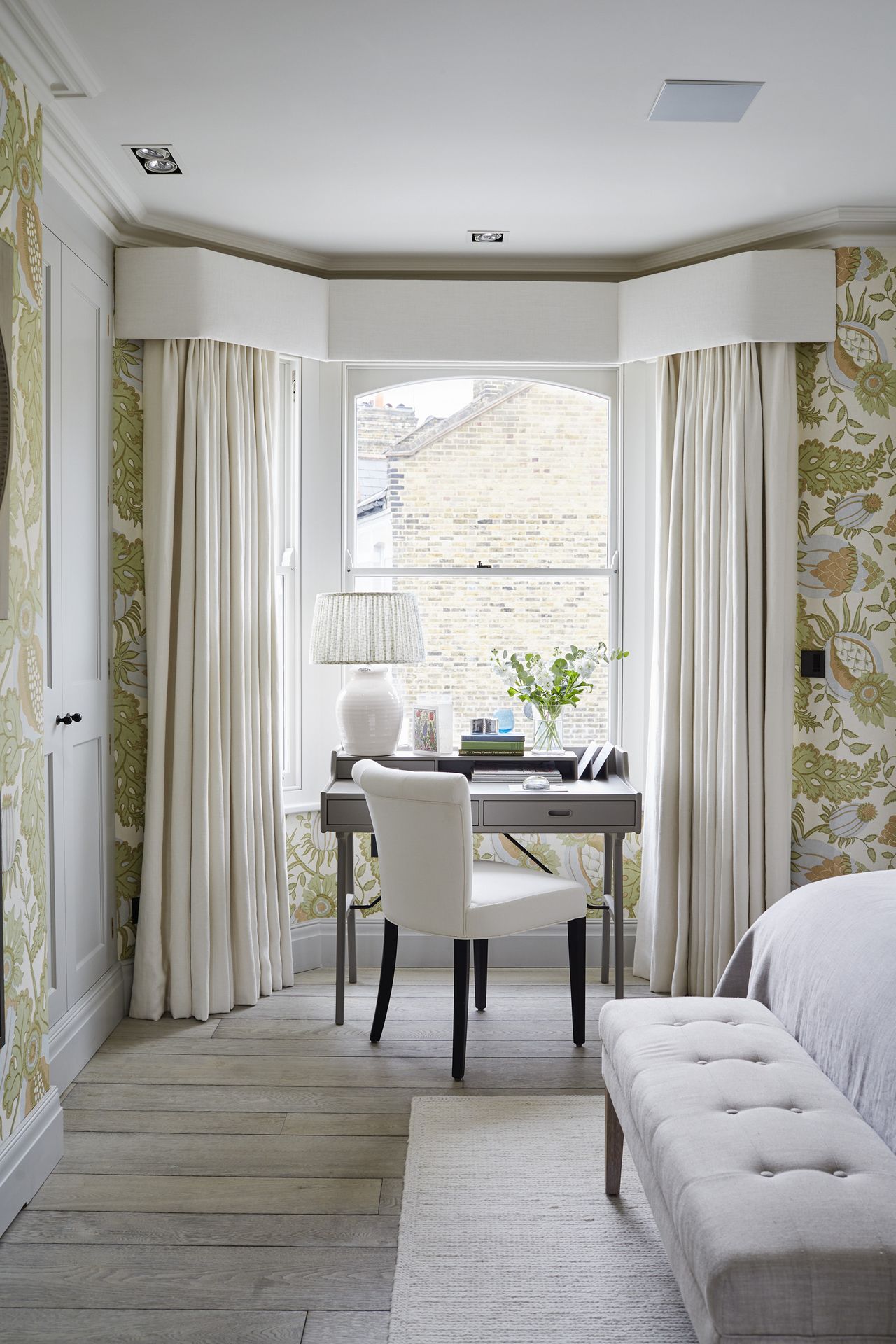 It goes without saying that good light is essential in a workspace, so when designing a bedroom layout, 'if a desk is to be incorporated, you might make sure it is placed near to natural light, ideally in front of a window,' says Louise Wicksteed design director at Sims Hilditch.
If you are lucky enough to have a large bay window, then this would make the ideal position for a desk. If you are considering positioning a desk by a window then be sure to consider window treatment ideas such as sheer curtains or venetian blind and shutters with adjustable slats to prevent glare on bright days, especially if the room is south-facing.
4. Fit a floating desk into a corner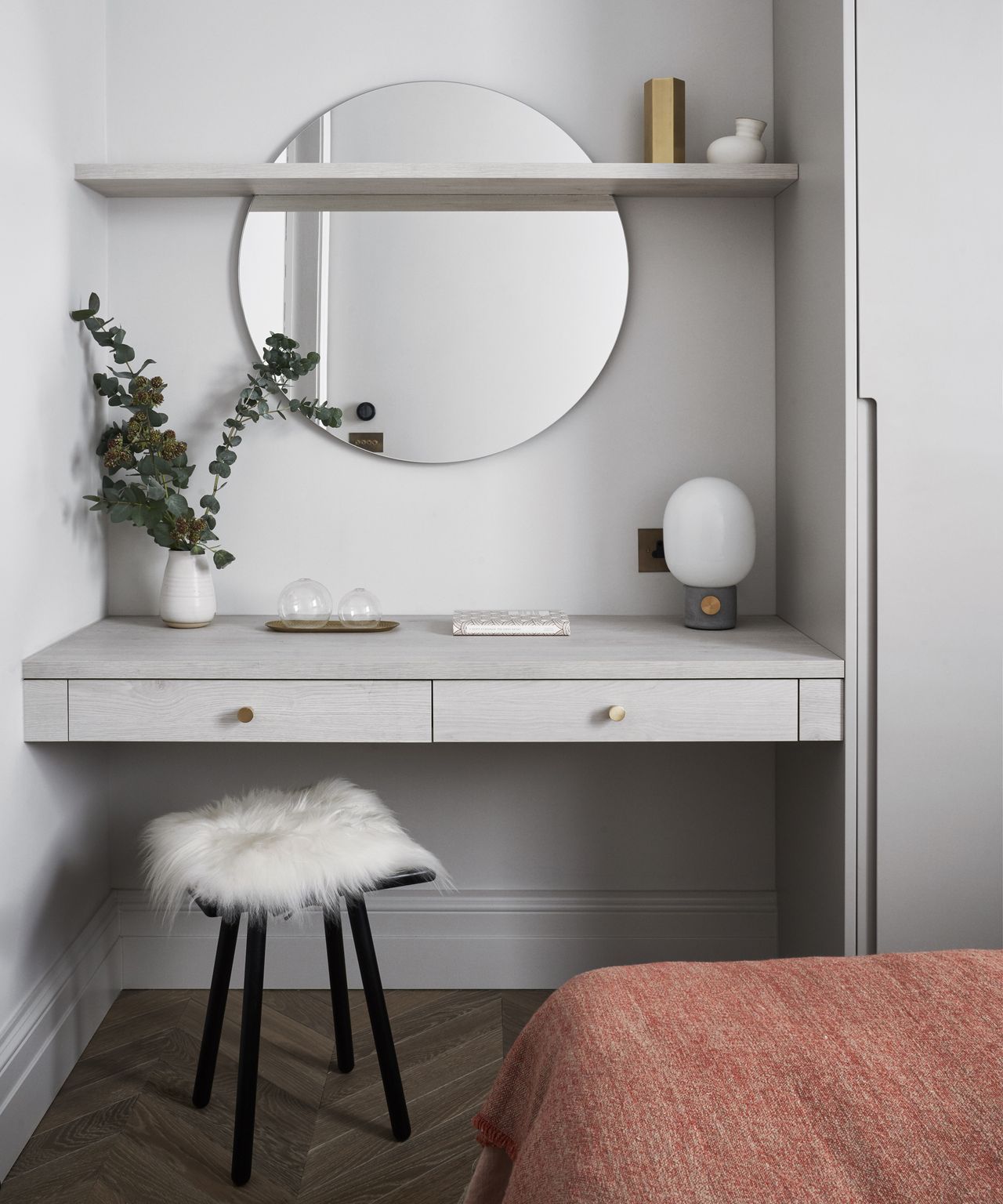 Incorporating a fitted desk can be a good use of an empty bedroom corner. To maximize space – and make it as discreet as possible – choose a floating desk fitted flush with the walls and fitted closets as demonstrated here. With no need for legs, this floating desk design gives space beneath to slide in a stool when not in use and creates the illusion of more space within the room. 
If you are looking for small bedroom ideas it's also worth thinking about the material of the desk as this can make a difference says Anna Franklin, interior designer and founder of Stone House Collective explains. 
'If you have the space for two dressers to be about four feet apart you could get glass to cover them and use the glass as a desk. Another option for a more traditional desk is an acrylic desk with a gold base – the clear look will create the illusion of space.'
5. Squeeze a desk into a snug alcove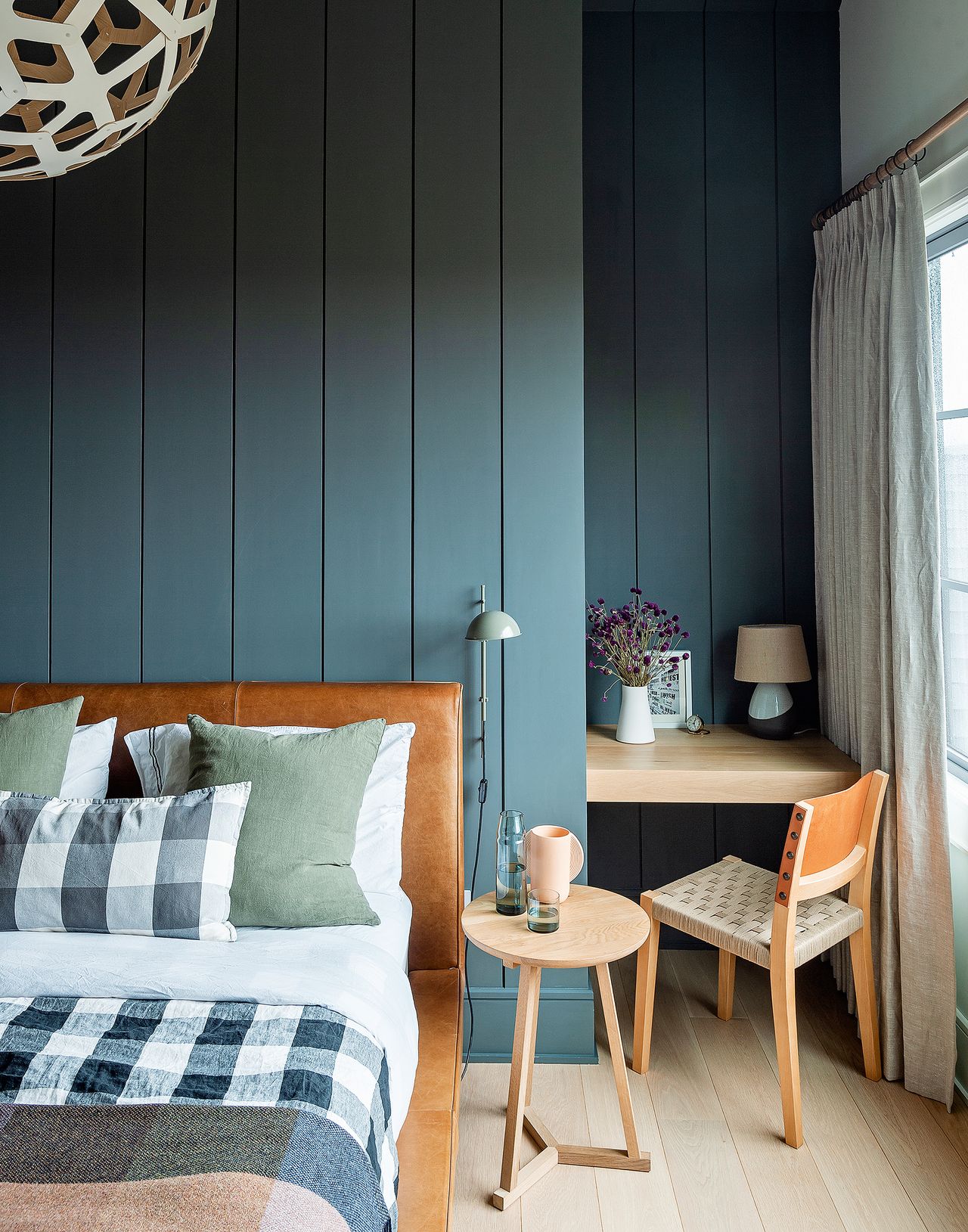 Alcoves make brilliant spaces to fit a desk. Provided there is a space to pull in a chair even the tiniest of alcoves can be used to create a workspace as this space proves. By having a desk tucked neatly into a corner of the room and set facing away from the rest of the space, this small bedroom layout idea helps keep the main area of the room clutter-free and allows the desk to be out of sight when you're looking to unwind.
If space is at a premium another 'option for small spaces is to get a drop desk installed where the desk can flip down when needed,' advices says interior designer Esther Dormer. She also advises that, 'when positioning a desk, it should be wherever the outlets are. This will avoid having cords going across the room.' 
6. Incorporate a slim-line desk into fitted storage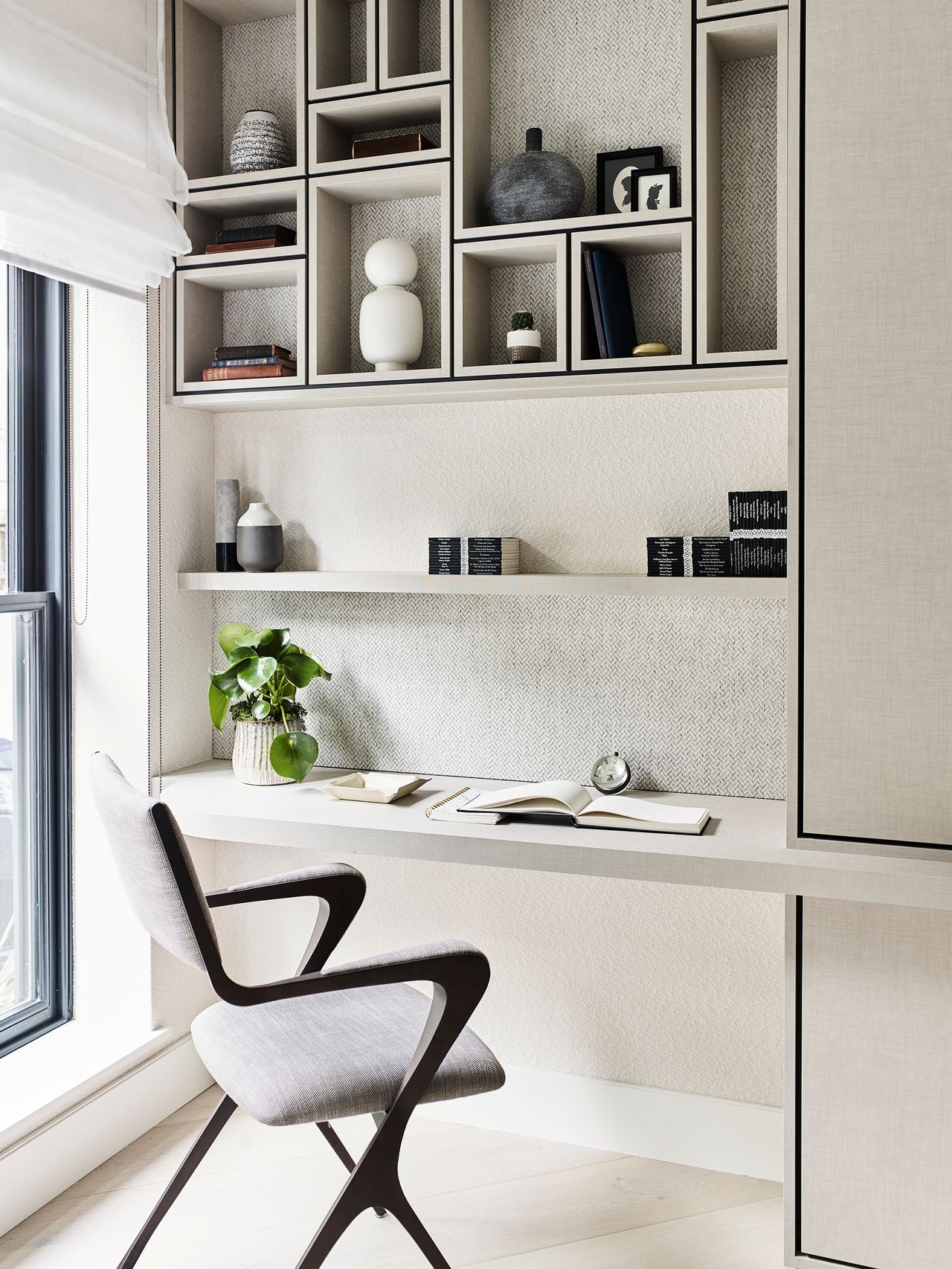 If you have a room without an obvious alcove to fit a desk then fitting a narrow shelf into a run of cupboards could make a practical alternative. In this bespoke design by Gunter & Co the shelf has been designed to be wider than the cabinets to provide enough space for a laptop and has been curved at one end to accommodate the window. 'This won't work in every house, but it was perfect for our clients,' says Irene Gunter. 'We have a generous depth for the desk without it jutting in front of the window.'
7. Hide a desk in a closet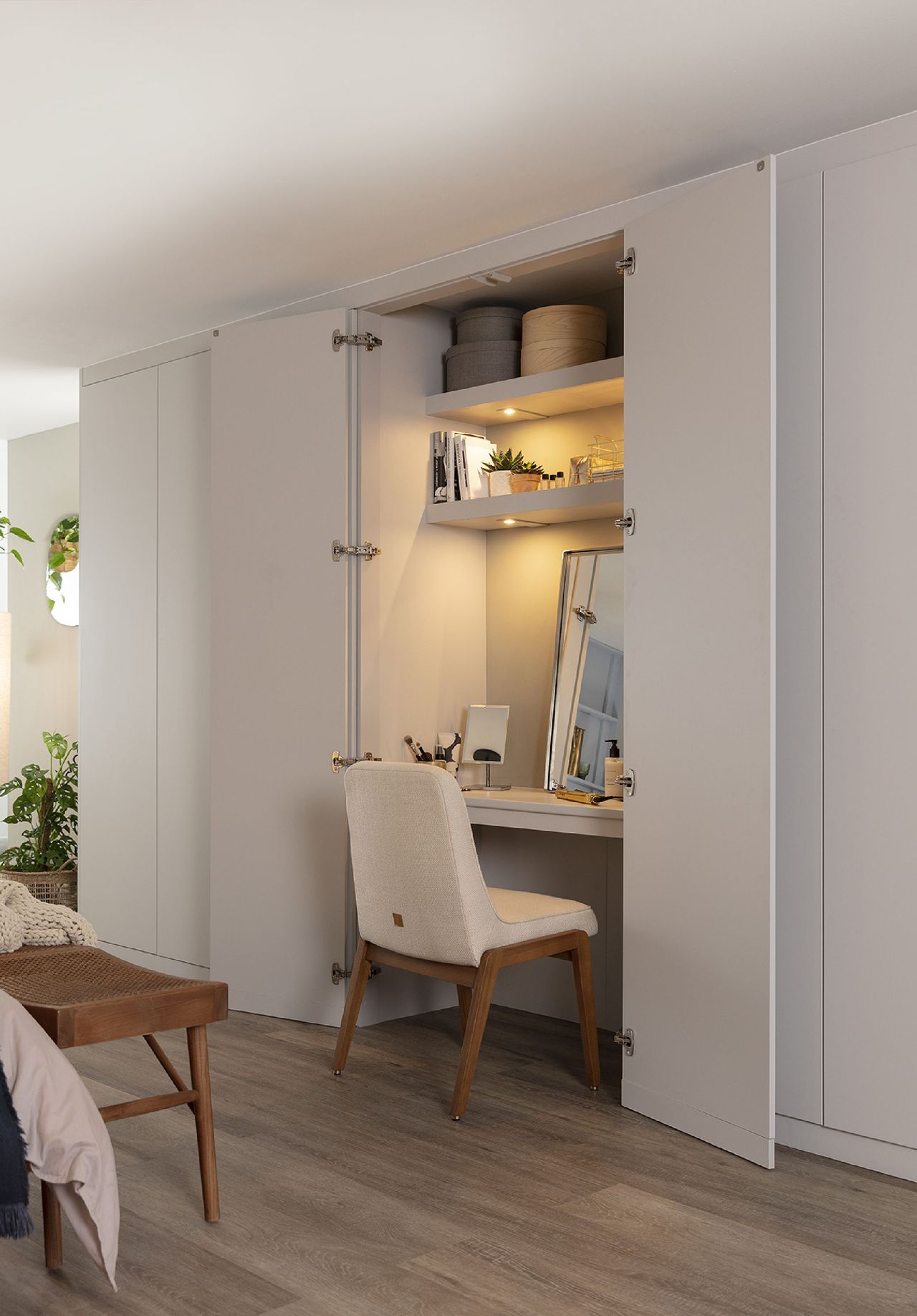 To ensure that your workspace doesn't encroach on your relaxation time it may be worth thinking about how a desk can be cleverly concealed within your bedroom design. There are many companies that offer sliding fitted into made-to-measure closets including designs that can slide in and out.
'Opting for a built-in desk solution, with the same design as your wardrobes, will create a cohesive look whilst having the desk in close proximity to the cupboards allows for easy to reach office storage and helps to maximise productivity,'  says Rachal Hutcheson, national retail manager of Sharps.
For other ways to hide a desk in a bedroom Anna Franklin, interior designer and founder of Stone House Collective suggests to 'use a foldable wall-mounted desk, or a foldable shelf that can turn into a desk. Both of these options will allow you to save space, and can possibly provide extra storage.'
8. Add character with a vintage desk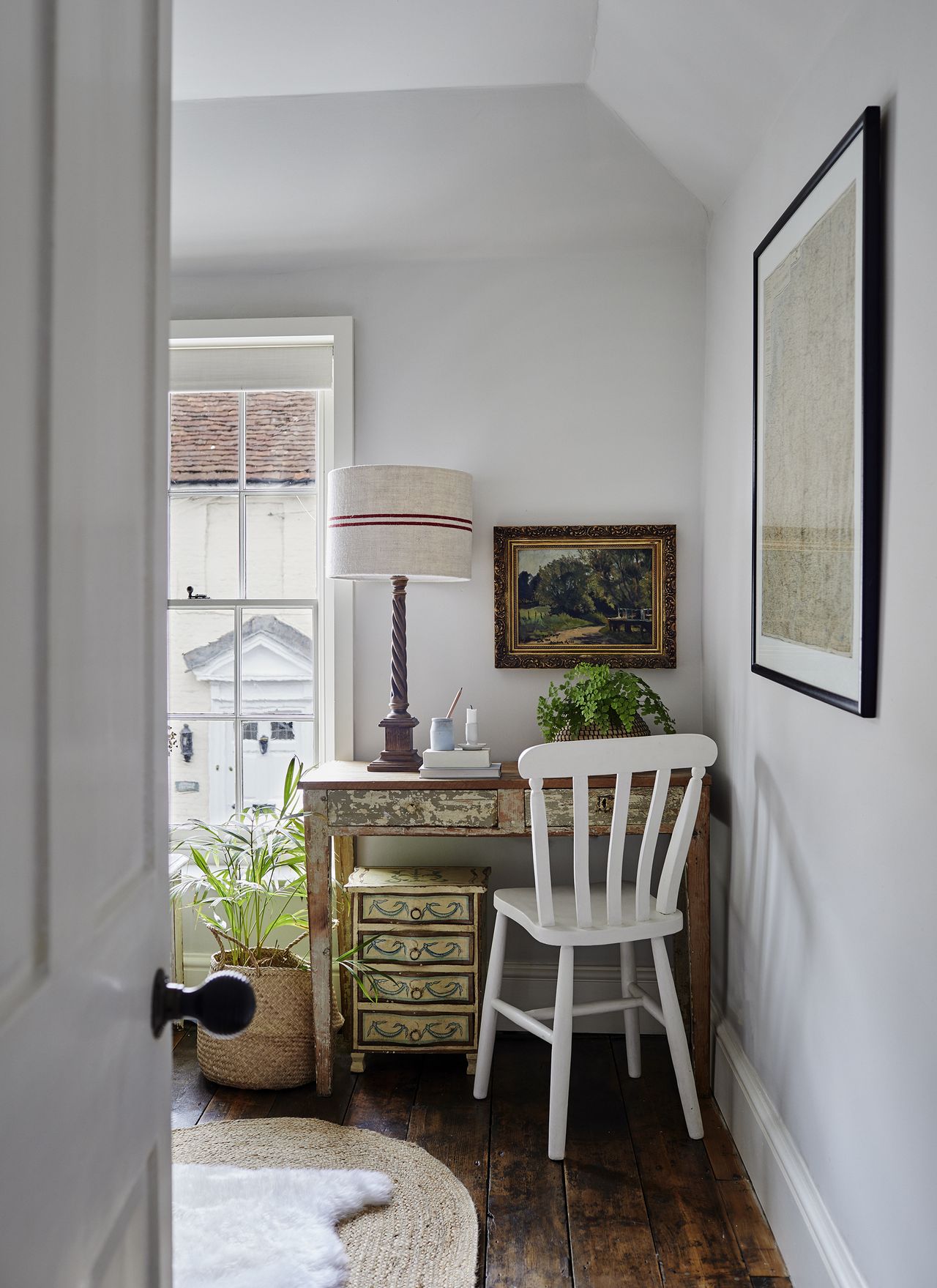 If you are looking for cottage bedroom ideas then consider hunting flea markets for an antique desk. Boasting time warn patinas and chippy paint, vintage wooden desks are a fabulous way to enhance and complement the character of country homes and rustic bedrooms. 
9. Choose a freestanding desk in a teenager's room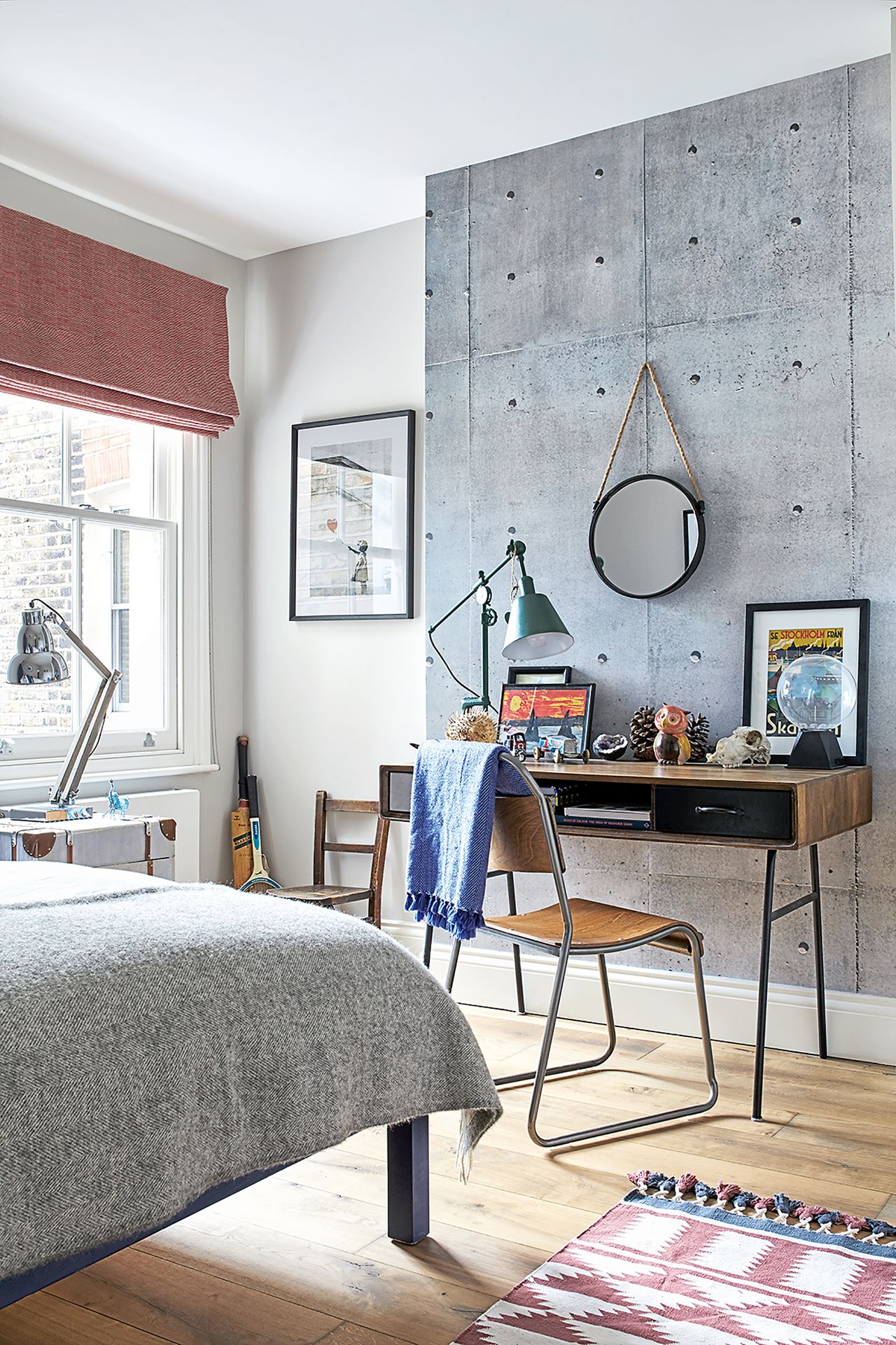 When you have a busy family home finding space where young people can study away from the hustle and bustle can be tricky – fitting a desk into their bedroom will provide a space where they can focus away from distractions. 
When thinking about bedroom ideas for teenagers, it may be worth thinking about a freestanding desk over a fitted design which will offer more flexibility over layout. Choosing a lightweight design that is easy to move will means that the space can easily be reconfigured should the function of the room change in future.
10. Choose a desk with drawers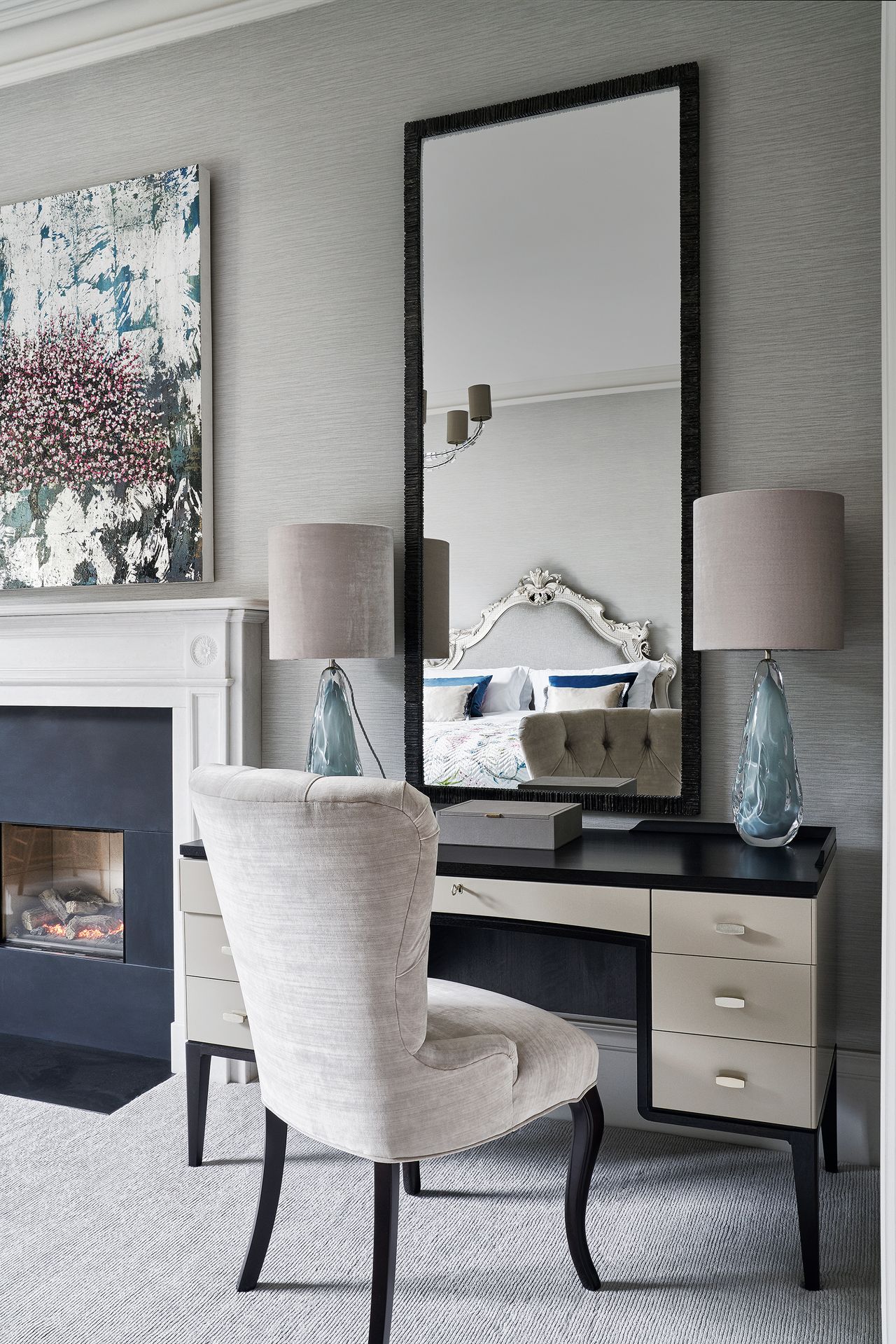 As with any home office, storage is important. Choosing a desk with a series of drawers will allow stationary items to be cleared away at the end of the day leaving surfaces clear and clutter-free for relaxation time. With a mirror positioned above it this desk can also make useful dressing table idea. 
11. Let a dressing table double as a desk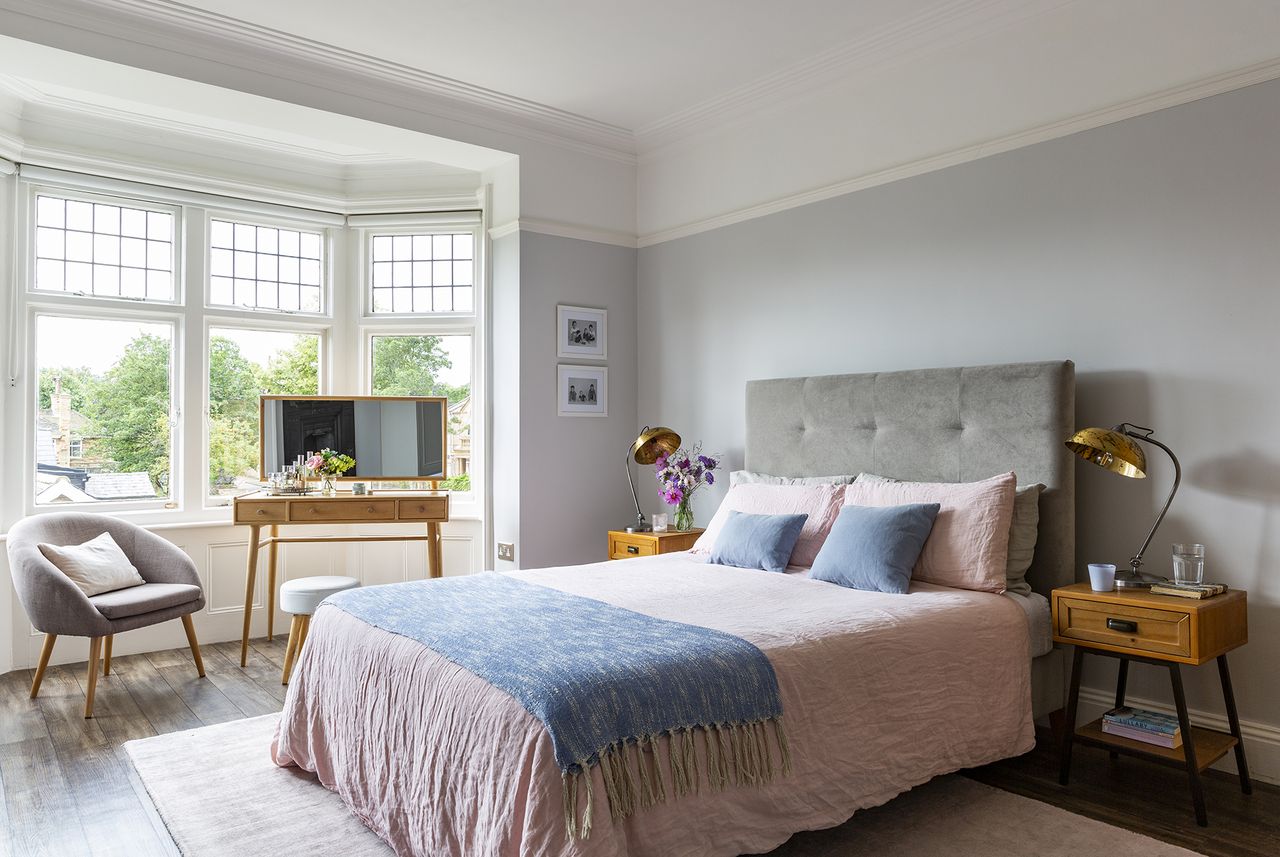 If you're just looking for a space to perch and write a quick shopping list or jot a note to a friend then a dressing table may be all you need. To choose the right dressing table design think first about where it will be positioned as this may impact the style you choose. Choosing a freestanding design with a mirror attached is a great choice if you plan to position your dressing table in a window or away from a wall were you cannot lean or hang a mirror.
How should I arrange my bedroom with a desk?
How best to arrange a bedroom with a desk will ultimately depend on the size and shape of the room, however there are many ways to incorporate a desk into a bedroom layout. 
Incorporating a fitted desk between your closets, or as part of a fitted storage system, is a great way to make the most of space, especially in small bedrooms. The desk can either be left open or can be fitted internally and hidden behind doors.
'Sliding door systems are a great way to conceal desks in the bedroom or any room of the home. Desks can be concealed in wardrobes or alcove spaces and simply hidden with fitted cabinetry when you're finished with the working day,' says Simon Tcherniak, senior designer at Neville Jonson.
Fitting a floating desk into an alcove is another great way to incorporate a desk into a bedroom layout plus is a brilliant space-saving solution for small bedrooms.
While fitted desks offer a seamless, clutter-free look freestanding desks also have benefits as they offer flexibility over your bedroom layout ideas allowing the arrangement to be easily reconfigured if needed, plus a freestanding desk can easily be positioned in a window to make the most of natural light.
How do I separate my bedroom and office?
There are several ways to separate an office area from a sleeping area in a bedroom. As bedrooms are places dedicated to rest and rejuvenation, if you are planning to incorporate a desk into your layout, then it's important that it is kept separate from your sleeping area. 
'Position them away from the bed at the opposite side of the room so you can keep the two functions of your bedroom separate,' says Simon Tcherniak, senior designer at Neville Jonhson. 'Ideally choose a pull-out desk or conceal with sliding doors so you can switch off and hide away your work-station at the end of the day.' 
'There are many clever storage bedroom systems available that seamlessly hide the desk,' agrees Sarit Marcus, professional interior designer and founder of Minted Space. 'However, if you don't have one of these systems, an easy and affordable way to hide a desk is with a room divider. A room divider is also a great way to spruce up the décor of a room.'